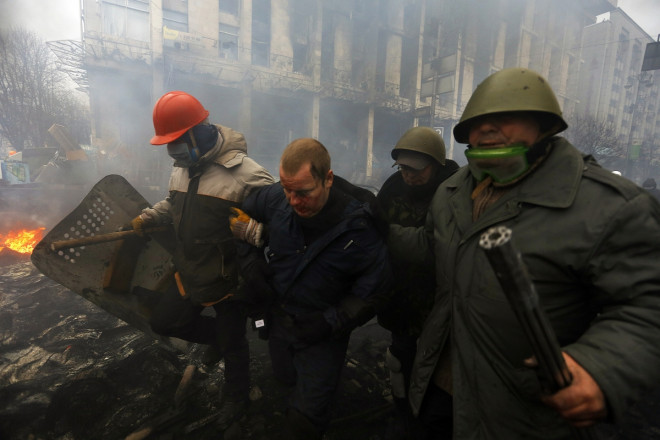 Anti-government protesters in the Ukrainian capital Kiev have taken dozens of poorly-armed security personnel hostage, demanding President Viktor Yanukovych's administration take immediate steps to ease the situation.
Most of the police officers captured by the protesters were brought from other parts of Ukraine such as Dnipropetrovsk, Kryvyi Rih, Crimea and Luhansk to assist the security forces deployed in Kiev.
At least 60 personnel, both veterans and new recruits, are believed to have been detained by the demonstrators. The men are currently being held in the government-owned Energy Company of Ukraine building, near the Kiev City Hall.
The personnel were armed only with rubber truncheons when they were taken by the opposition groups.
The interior ministry has indicated it might even use force to release the detainees.
"Within a framework of a work of 'Anti-terrorist center under the Security Service of Ukraine' I signed the corresponding orders – to give the combat weapons to the law-enforcement officers and it will be used in accordance with the Law of Ukraine 'On Militia,'" said Interior Minister Vitaliy Zakharchenko in his address.
The security forces were taken on the day of deadly clashes which witnessed at least 49 deaths, mostly protesters, who were shot down by police. Three officers were also killed.
One of those caught up in the fighting, unit commander Vasyl Tur, told the Kyiv Post: "I am not sure what was going on, I was sleeping. We got surrounded right away, the others were running and me and my greenhorns were left out."
The hostages were initially taken to the EuroMaidan stage and some of them are said to have received medical attention, after which they were taken to the building of the Energy Company. The hostages are also being served food, according to reports.
"Police have only a standard set of protection – bulletproof vests, protective gear for legs and arms, helmets, rubber truncheons and handcuffs," said senior police official Tymur Tsoi.
"We have firearms, but didn't take them with us. Police were just holding up the cordons. And yes, if you want to call it that, we were used as a live shield."
Talks are set to take place between the authorities and the protesters on the fate of the hostages.