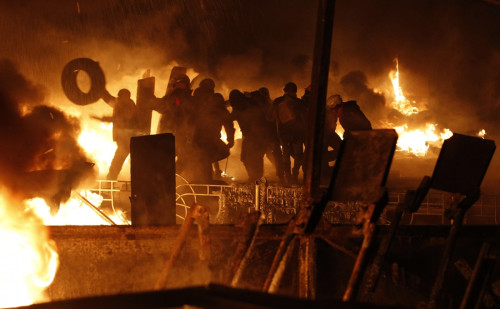 Ukrainian President Viktor Yanukovich's compromise including a cabinet reshuffle has failed to quell the spiralling protests even as riots are threatening to engulf half of the country.
The capital Kiev is witnessing continuing clashes as the opposition groups are determined the president should step down.
Anti-government protesters hurled rocks and petrol bombs at security forces. The riot police fired tear gas shells to control the situation overnight. Huge fireballs in central Kiev lit up the night sky as the protesters burnt tyres at barricades.
Several protesters have been injured and taken to hospital while scores of others are thought to have been arrested.
Key opposition leader Vitaly Klitschko has said anything short of the president's resignation will not satisfy the protesters.
Klitschko has also called for international intervention to resolve the ongoing crisis.
"Any discussion of how to settle the crisis in Ukraine must take place with the involvement of the international mediators of the highest level. Instead of shifting to solving the situation by common sense, Yanukovich has declared war on his own people. He is trying to hold on to power at the price of blood and de-stabilisation of the situation in the country. He has to be stopped," his Udar party said in a statement.
The wave of protests began after the government failed to seal a landmark agreement with the EU.
Many government buildings in different parts of Ukraine have also been seized by opposition groups.
To ease the prolonged crisis, Yanukovich, at a meeting with religious leaders earlier, said: "We will take a decision at this session. The president will sign a decree and we will reshuffle the government in order to find the best possible professional government team."