Predictions of a bloodbath for Theresa May's Conservatives in this May's London council elections include the likelihood that Barnet, which contains Margaret Thatcher's old constituency, will turn red for the first time since its formation in 1965.
But another interesting feature of Labour's ascent in the outer north London borough is that it is home to more Jews than any other local government area in the UK. Victory in Barnet could prove a symbolic achievement for Jeremy Corbyn's party, which was blighted by a string of antisemitism controversies in recent years.
The borough has nearly always returned Tory MPs, and the council has always been Conservative controlled except for eight years when it was still the largest party but formed the opposition to a Labour/Lib Dem coalition.
But now the Conservative's are preparing to lose the Barnet, according to Lord Hayward, an election analyst, who spoke to the Evening Standard.
And this against the backdrop of repeated allegations of antisemitism within Momentum, the grassroots Jeremy Corbyn support machine. Not to mention high profile controversies in 2016 when Corbyn's pal, Ken Livingstone, insisted publicly that Adolf Hitler was a Zionist, and Bradford MP Naz Shah was suspended after she suggested on Facebook that Israel should be "relocated" to the US.
So how does the cloud of antisemitic allegations bear on the 14% of Barnet's 360,000 residents who are Jewish?
"It does affect people," Barnet Labour leader Barry Rawlings told IBTimes UK.
"There are people who worry about the antisemitism that may not vote [for Labour] nationally until they have seen the national Labour Party taking more action – but that's not necessarily reflected locally where Jewish people are more involved politically in all parties.
"Barnet's peculiar," he added. "Barnet Momentum [the Corbyn-leaning grassroots campaigning network] was possibly the only Momentum that called for Ken Livingstone to be thrown out the party."
While there are plenty of Jewish Labour Party members up and down the country, demographics dictate that their presence is most strongly felt in Barnet. Indeed, Rabbi Danny Rich, the Chief Executive of Liberal Judaism, will be standing for the West Finchley ward for the local party in May.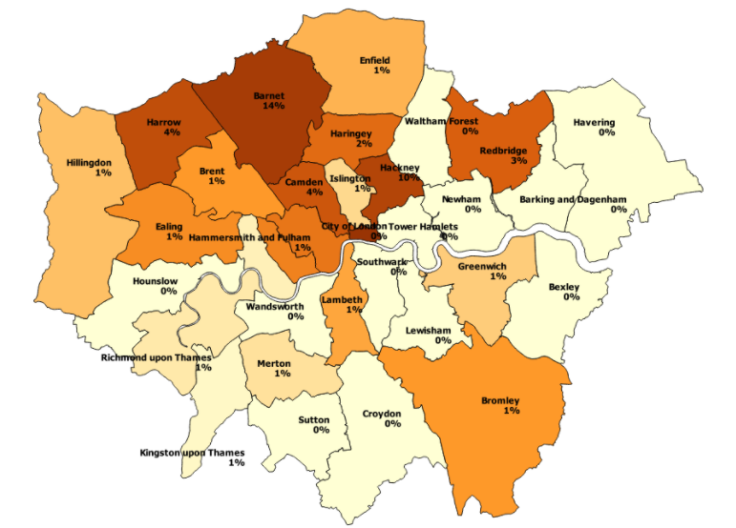 A June 2016, Corbyn-commissioned, Shami Chakrabarti-led investigation into allegations of antisemitism within Labour concluded that the party was "not overrun by antisemitism, Islamophobia or other forms of racism," while acknowledging an "occasionally toxic atmosphere".
Chakrabati's findings were received indifferently by parts of the Jewish community. And there was genuine anger when she was appointed to the House of Lords by Jeremy Corbyn one month later. Marie van der Zyl, vice-president of the UK's main body representing Jews, called it a "whitewash for peerages scandal".
Mike Katz, from the Jewish Labour Movement (JLM) told IBTimes UK: "Labour Conference unanimously passed a rule change proposed by JLM which will make it far easier to take disciplinary action against all hate speech.
"There are some 'litmus test' disciplinary cases coming up, where the [Jewish] community expects Labour to take firm action and expel high-profile antisemites," he added.
Jewish communities in London as a proportion of population
Labour's London momentum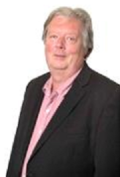 The Evening Standard reported Lord Hayward as saying the Tories could lose four of their nine London boroughs in May. They are losing hold of their traditional heartlands in the outer boroughs.
"Places like Barnet are becoming more London and less Home Counties," Rawlings said, before citing a recent Shelter study which claimed there was now more child poverty in Outer London than there was in Inner London.
As a member of that increasingly rare breed – a Londoner born in London – Rawlings has watched the city change while paying his own private homage to tradition by becoming a third generation Labour councillor, following in his father's and grandfather's footsteps.
Even before the aftermath of the Brexit referendum, Labour's star was rising in Barnet: the party took 30 of the brough's 63 seats in the 2014 local elections, nearly wresting power from the Tories.
Confirmation that the tide was turning in the capital then arrived in May 2016 with Sadiq Khan's trouncing of Zac Goldsmith in the London Mayoral elections.
Rawlings praised the result for proving that: "London is mature enough to elect a working class, Muslim mayor; confident enough to accept that being a Londoner can mean many different things."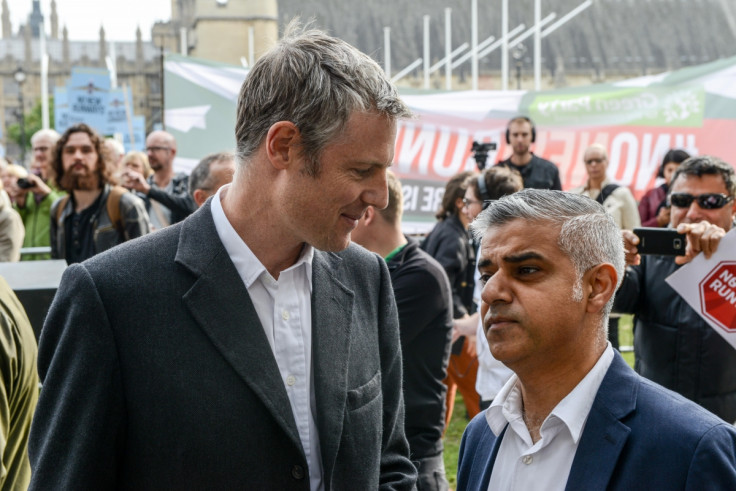 Add to that tide the capital's disgust at being dragged out of the EU by the provinces along with the coalescence in people's minds of Brexit and Tory brand, it is no surprise that Barnet's three blue MPs all had a close ride in the 2017 General Election. Former cabinet minister Theresa Villiers saw her majority reduced from more than 7,500 to 353.
Rawlings conjectures that the whiff of antisemitism around the national Party "may be the reason we got three marginal Conservative [wins] rather than three Labour."
Looking ahead to May though, Barnet Labour is trying to handle the expectation that it will take the borough outright for the first time for the first time in more than 60 years of trying
Rawlings believes that pledges around housing, policing, the environment and the Arts will cut through with local voters regardless of their race or religion, though he is wary of the expectation that Labour will triumph and warns against complacency.
"We're in a good position but we haven't won yet," he said. "You haven't won until the day and lots of things can happen."
"I want Barnet to feel like an optimistic place – looking forward."