Universal remotes were probably hailed a godsend when they were invented in the 1980s, but since then there has been an explosion of home entertainment, comfort and security systems that require some form of remote input. Enter the Sevenhugs Smart Remote, an all-in-one device capable of controlling everything from your TV to games console and lighting system, and can order you a cab, to boot.
Sevenhugs' $229 (£190, €220) device is compatible with more than 25,000 devices from well-known manufacturers including Nest thermostats, Sonos speakers and Philips Hue lights, thanks to a clever combination of Wi-Fi, Bluetooth and infrared.
Unlike your usual universal remote that requires you punch in a combination of numbers to pair it with a device, Sevenhugs' Smart Remote boasts a 3.4in LCD touchscreen that automatically detects what you're pointing it at and displays custom controls on-screen. This means you can use it to control everything from speakers and media players to blinds, thermostats, security cameras and fans.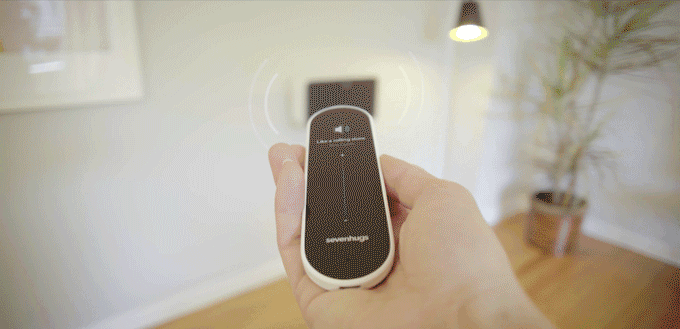 The remote can be programmed to beam out various inputs depending on where it's pointing, using an indoor positioning system comprised of wall-mounted sensors and built-in accelerometer, gyroscope and compass.
You can then dictate whether the remote sends out Wi-Fi, infrared of Bluetooth signals based on the direction it's pointing and change the channel, dim the lights or turn up the volume accordingly.
If you've got two or more devices in close proximity, Sevenhugs' controller will bring up a carousel that will let you select which device you want to control.
The Smart Remote is also compatible with services like Lyft and Uber, meaning you can programme it to order you a taxi when you point the device in a particular direction – at the door, for example.
To stop you erroneously ordering a taxi every time there's a fight over the remote, you can set up a four-digit code that will be asked for every time the device thinks you might be trying to flag down a ride. Similarly, you can programme the remote to show you the weather forecast when you point to skyward, or towards a window, or in any other direction for that matter.
Sevenhugs' Smart Remote can currently be pre-ordered for $229 on its Indiegogo page, although the device will come with an RRP of $300 when it launches in September. Each order comes with a remote, USB-C charging base and three room sensors that are capable of covering a space up to 1,000 square feet.