Six years after the deadly Cholera outbreak in Haiti in 2010, the United Nations finally accepted its involvement in the spread of the contagious disease. Close to 10,000 people died after infected bacteria, reportedly passed on by a group of Nepalese troops aiding the earthquake relief effort, entered the water supply through an open sewer pipe.
Farhan Haq, a spokesman for UN Secretary General Ban Ki-moon said on Thursday (18 August), "Over the past year the UN has become convinced it needs to do much more regarding its own involvement in the initial outbreak and the suffering of those affected by cholera."
He added that a "new response will be presented publicly within the next two months, once it has been fully elaborated, agreed with the Haitian authorities and discussed with member states".
The New York Times reported that the UN had acknowledged the role the organisation played in the initial outbreak, and that a "significant new set of UN actions" would be needed to respond to the crisis.
"This is a groundbreaking first step towards justice," said Beatrice Lindstrom of the Institute for Justice and Democracy in Haiti (IJDH), which is pursuing a class-action lawsuit against the UN.
Speaking to The Guardian, Lindstrom said: "The UN must follow this announcement with action, including issuing a public apology, establishing a plan to provide compensation to the victims who have lost so much, and ensuring that cholera is eliminated in Haiti through robust investment in water and sanitation infrastructure. We will keep fighting until it does."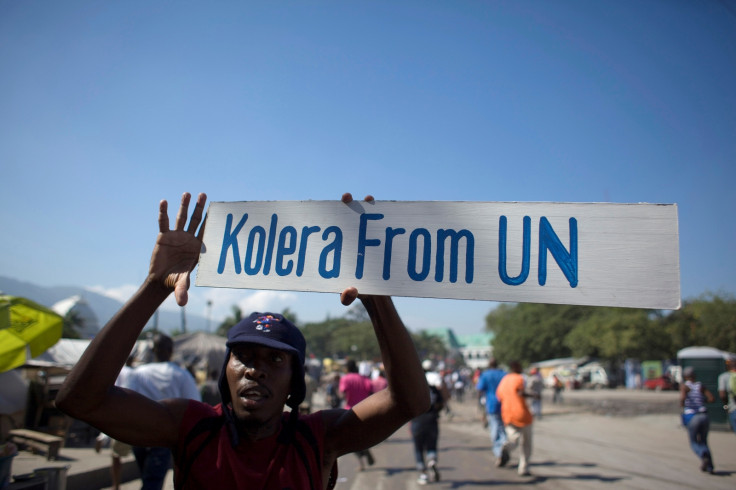 However, considering that the UN has diplomatic immunity, Haq pointed out that it would not be required to pay damages to the victims of the Haiti crisis. A US federal appeals panel in New York later upheld immunity for the UN and dismissed a case against the organisation on behalf of cholera victims.
Scientific research into the outbreak had earlier indicated that a group of Nepalese UN troops were the carriers of the disease. Inadequately treated sewage water from a peacekeepers' base reportedly contaminated Meille River, Haiti's biggest water resource.
Philip Alston, a New York University law professor and UN special rapporteur who authored the UN draft report on the Cholera outbreak, also pointed out that the UN base could be the only plausible source of the disease.