World leaders and diplomats are today (19 September) to hold the first ever summit in efforts to deal with the world's 65.3 million refugees, displaced in the worst crisis of its kind since the Second World War.
The UN's 193 member states are aiming to organise a coordinated response to find long-term solutions to problems such as the war in Syria which, along with the conflict in Afghanistan, has fuelled the unprecedented numbers of refugees.
"It's very interesting because if we are able to translate that paper into a response in which many actors are going to participate, we will solve a lot of problems in emergency responses and in long-term refugee situations like the Syrian situation," Fillipo Grandi, the UN's High Commissioner for Refugees told The Associated Press.
A report by Secretary-General Ban Ki-moon has laid the basis for the summit document. Ban has said he is aware of mounting criticism from non-governmental groups over the numbers of refugees.
"While we all wish it could be a stronger outcome document ... all 193 member states had to agree on their commitment. As you will see, my report was a strong one," the secretary-general said.
"I hope that, as the two compacts are adopted over the coming year and a half, some stronger language and commitment and elements from the report will reappear in the course of this negotiation," he added.
Following the UN's general assembly summit, US President Barack Obama has called for follow-up meetings between at least 45 countries which are expected to make pledges that are in line with US goals, of increasing humanitarian aid by $3bn (£2.3bn).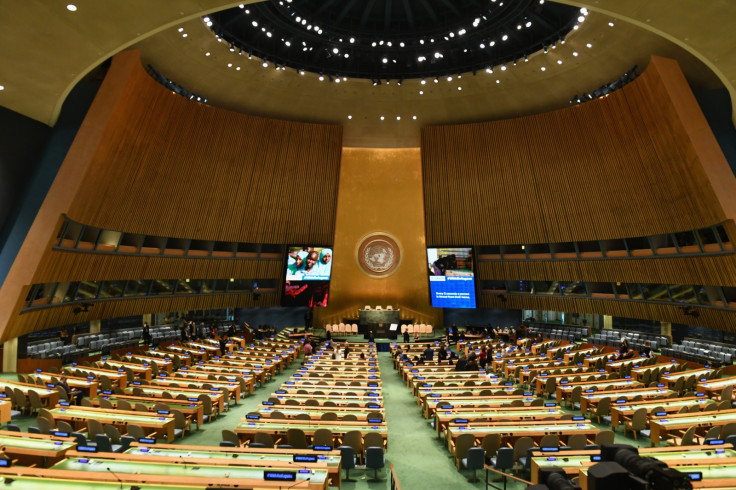 War Child, an NGO which strives to protect children caught up in the world's conflicts, is one of the groups calling for a greater response. War Child global ambassador Carey Mulligan has called on world leaders to develop a global action plan for children forced to flee – which would mobilise $4bn for education in emergencies by 2020.
'At War Child we see the devastating impact that war has on the lives of thousands of children we work with. We're constantly frustrated that the rights of children always seem to end up at the back of the queue when it comes to handing out humanitarian aid, as their voices can be easier to ignore – this has to stop," War Child UK CEO Rob Williams said.
"It's high time leaders come together to develop a global action plan for children forced to flee," he added.