UN General Assembly: Watch live stream as Barack Obama, Theresa May and world leaders make addresses
Thirty-four world leaders will address the General Assembly today, 20 September in New York.
World leaders including Barack Obama, Theresa May and Justin Trudeau are to address the 71st UN General Assembly today (20 September), the first of two days of annual autumn talks.
The speeches - which will cover a variety of topics - begin at 9am local time in New York (2pm BST). They are split into two halves with the second beginning at 3pm (8pm BST).
Among those leaders speaking to the assembly are French President François Hollande, Canadian Prime Minister Justin Trudeau, Nigerian President Muhammadu Buhari and Turkish President Recep Tayyip Erdoğan.
Obama's speech will be his last to the UN General Assembly as US president. The Associated Press has reported he is expected to reassure foreign leaders that the world is better equipped to tackle its challenges than at almost any point in history despite a cascade of harrowing crises that seem devoid of viable solutions.
Speaking at preliminary summit on refugees and migrants yesterday (19 September), British Prime Minister Theresa May said both MI6 and GCHQ will be given additional resources to break up networks in countries involved in the slave trade.
In her second address she is expected to attempt to allay fears over Britain's June vote to leave the European Union.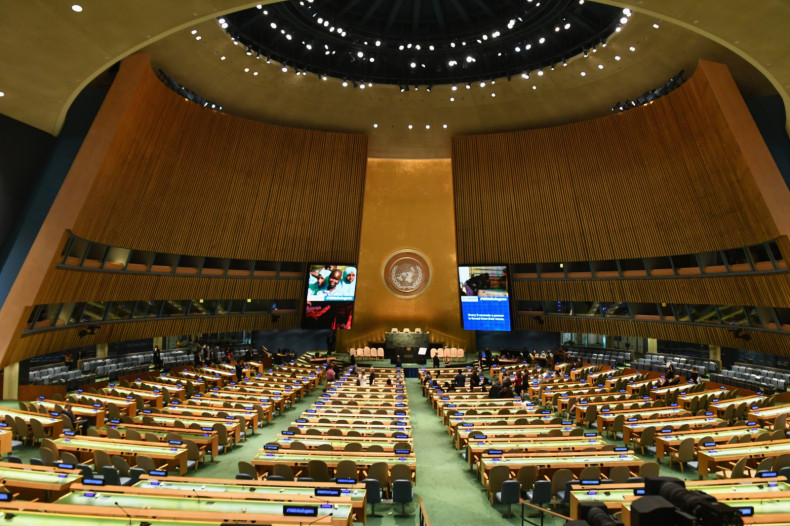 The full programme is as follows:
9am (2pm BST)
1. Report of the secretary-general on the work of the organisation: presentation by the secretary-general of his annual report
2. Opening of the general debate
3. Address by His Excellency Michel Temer, President of the Federative Republic of Brazil
4. Address by His Excellency Barack Obama, President of the United States of America
5. Address by His Excellency Idriss Deby Itno, President of the Republic of Chad
6. Address by His Excellency François Hollande, President of the French Republic
7. Address by His Excellency David Arthur Granger, President of the Republic of Guyana
8. Address by His Highness Sheikh Tamim bin Hamad Al-Thani, Amir of the State of Qatar
9. Address by His Excellency Mauricio Macri, President of the Argentine Republic
10. Address by His Excellency Andrej Kiska, President of the Slovak Republic
11. Address by His Excellency Arthur Peter Mutharika, President of the Republic of Malawi
12. Address by His Excellency Tabaré Vázquez, President of the Eastern Republic of Uruguay
13. Address by His Majesty King Abdullah II ibn Al Hussein, King of the Hashemite Kingdom of Jordan
14. Address by His Excellency Johann Schneider-Ammann, President of the Swiss Confederation
15. Address by His Excellency Pedro Pablo Kuczynski Godard, President of the Republic of Peru
16. Address by His Excellency Recep Tayyip Erdoğan, President of the Republic of Turkey
17. Continuation of general debate
Address by His Excellency Josaia Voreqe Bainimarama, Prime Minister of the Republic of Fiji
Address by Her Excellency Theresa May, Prime Minister of the United Kingdom of Great Britain and Northern Ireland
Address by His Excellency Justin Trudeau, Prime Minister of Canada
3pm (8pm BST)
1. Address by His Excellency Béji Caïd Essebsi, President of the Republic of Tunisia
2. Address by His Excellency Andrzej Duda, President of the Republic of Poland
3. Address by His Excellency Jacob Zuma, President of the Republic of South Africa
4. Address by His Excellency Borut Pahor, President of the Republic of Slovenia
5. Address by His Excellency Abdel Fattah Al Sisi, President of the Arab Republic of Egypt
6. Address by His Excellency Muhammadu Buhari, President of the Federal Republic of Nigeria
7. Address by His Excellency Yoweri Kaguta Museveni, President of the Republic of Uganda
8. Address by His Excellency Marcelo Rebelo de Sousa, President of the Republic of Portugal
9. Address by His Excellency Enrique Peña Nieto, President of the United Mexican States
10. Address by His Majesty Don Felipe VI, King of the Kingdom of Spain
11. Address by His Excellency Edgar Chagwa Lungu, President of the Republic of Zambia
12. Address by His Excellency Juan Carlos Varela Rodríguez, President of the Republic of Panama
13. Address by His Excellency Luis Guillermo Solís Rivera, President of the Republic of Costa Rica
14. Address by His Excellency Elbegdorj Tsakhia, President of Mongolia
15. Address by His Excellency Macky Sall, President of the Republic of Senegal
16. Continuation of the general debate
17. Address by His Excellency John Key, Prime Minister of New Zealand