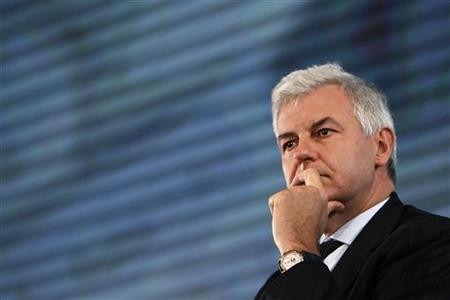 The former CEO of Italy's largest bank, Unicredit, is standing trial with 19 other bank officials for the use of a complex financial instrument called "Brontos" that prosecutors claim was designed by the banking chiefs to avoid taxes.
The hearing is set for 1 October and the prosecution will be led by Alfredo Robledo. Profumo, who is now chairman of Banca Monte dei Paschi di Siena, said he was "confident and impatient" for the trial to start to give him a chance to end the damage the allegations are causing his reputation.
Milan judge Laura Marchiondelli indicted Profumo and 16 other current and former Unicredit employees. They are also accompanied by 3 representatives from UK bank Barclays, who, prosecutors claim, helped Unicredit install the "Brontos" mechanism and allowed them to participate in a bout of corporate tax fraud.
Barclays said: "Barclays continues to believe firmly that it and the individuals involved have not violated any tax or other laws in Italy, and we continue to support fully the individuals named in this matter.
"Barclays takes its responsibilities as a corporate citizen very seriously, complying with taxation laws in the UK and in all the countries where we do business."
Unicredit said it was "confident that, during the trial, the conduct of the bank and its representatives and employees, past and present, who always acted with transparency and good faith and in compliance with applicable laws, will be vindicated".
According to court documents published by Bloomberg, UniCredit used a tax plan called Brontos that was conceived to mask interest earned on a deposit account into dividends earned on fictitious securities. According to a judge's written request for the asset seizure, the interest earned on deposits is taxed in full while dividends are taxed at 5 percent.
Bloomberg also said that the same judge said that Barclays used a Luxembourg unit to issue Turkish lira securities purchased by its Milan branch and through a series of transactions involving Barclays's London branch and the use of currency swaps, Barclays enabled UniCredit to earn interest of about 20 percent in 2007, or five times the amount it could have earned on the interbank market at the time.