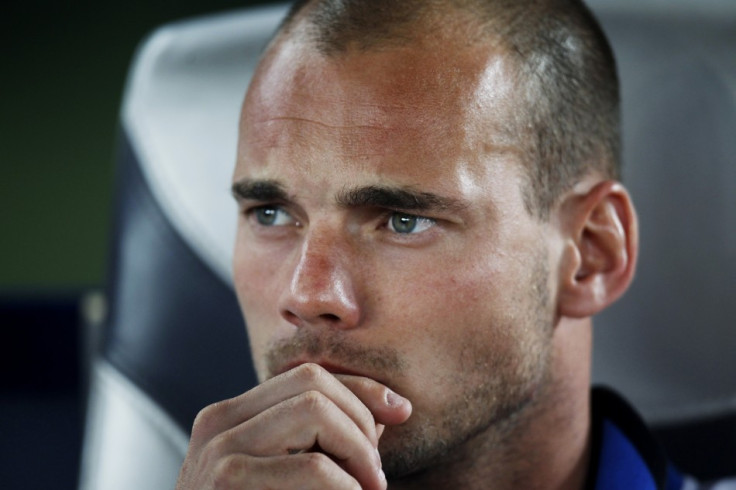 Inter Milan have confirmed that they have not entered into talks with Manchester City for the sale of United target Wesley Sneijder, despite the fact that the Italian club had representatives meet with the club on Thursday.
Sneijder has left hints on numerous occasions that if the right offer came in for his signature, Inter Milan would likely sell the playmaker to recoup some of their losses this season.
Manchester United are widely touted as favourites to land Sneijder, but Sir Alex Ferguson has continually insisted that he isn't keen on the Dutch international. The rumours haven't stopped though, and after Sneijder admitted that he was only 90% sure of staying at Inter, talks began again that the star might finally make the move to United after all.
Manchester City have been connected to Sneijder before, but Inter sporting director Marco Branca insists that while he met with representatives at the club in London, they didn't discuss this particular player.
"There were no discussions whatsoever regarding Wesley Sneijder today during our meeting in London with representatives of Manchester City," Branca told the official Inter website.
United and City have been linked with a wide range of midfielders in preparation for January transfer window, including the likes of Christian Eriksen, Marek Hamsik and Mario Gotze.
Sneijder was said to be worth £35 million by numerous press outlets last summer, but Inter have reportedly lowered their fee to £25 million in the hopes of getting some quick money in at the turn of the year.
Last summer was a crazy one for the 27 year old, with speculation surrounding a move to Old Trafford right up until the transfer window closed. Sources close to Sneijder have claimed that he is desperate to move to United, particularly with Inter struggling in the Serie A, but his wage demands of around £200,000 a week were believed to be the main reason for Ferguson refusing to discuss a deal.
And while it was thought that a deal for Sneijder to move to the Premier League was dead and buried, speculation is cropping up again claiming that both United and City are making more enquiries as they consider bolstering their respective squads in a push for the title.
Italian media are now also claiming that United have met with Branca to talk about Sneijder, but those reports, in particular from Calciomercato.com, are currently unsubstantiated.