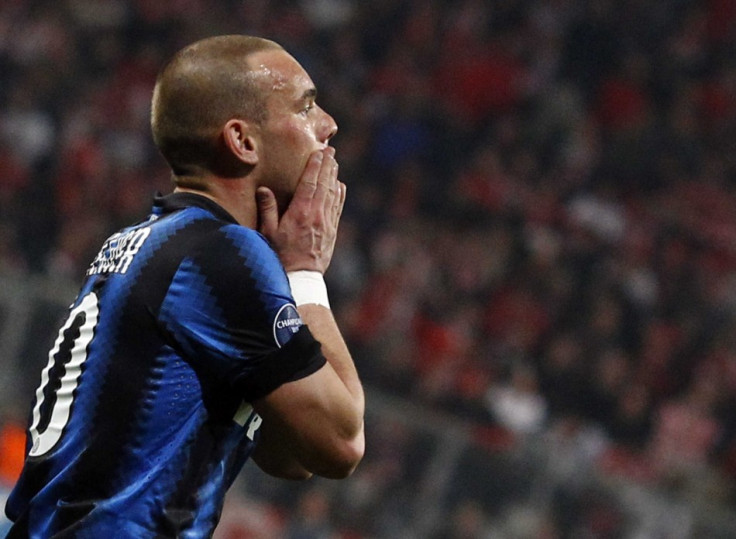 Wesley Sneijder has not been affected by rumours linking him with a move to Manchester United once more, according to Inter Milan coach Claudio Ranieri, with the playmaker struggling to find top form for Inter Milan so far this season.
Inter are currently 11th in the Serie A table, and face an almost impossible uphill battle to gain entry into next season's Champions League. The loss of Samuel Eto'o has clearly had an effect on the club, and while Sneijder stayed and insisted he was committed, rumours have continued to insist a move to Old Trafford is a possibility.
United were again linked with Sneijder last week, when a Dutch journalist told Talksport he believed that the Holland international would move the second Sir Alex Ferguson came knocking.
"We think Wesley Sneijder would love to join Manchester United," Marcel van der Kraantold talkSPORT.
"He cannot go against the club Inter Milan to tell the fans, look I want to leave, but we know, we're close enough to Wesley Sneijder, that he idolises Old Trafford and Sir Alex Ferguson.
"He thinks it's a super team to play for and if there is a chance in January where Manchester United think they have to bring creative players to the squad, then he will jump at it."
But Inter coach Ranieri has moved again to quash the possibility of Sneijder joining United, telling reporters: "I believe very little in the story of the player wanting to go away and being put on the transfer market.
"These are maybe rumours, perhaps unchecked and untrue, and so I don't give them much consideration."
Sneijder's wage demands of £200,000 per week, along with his £35 million fee, were said to be stumbling blocks in a possible deal with United in the summer.
But the 27 year old has insisted that he wants to win more trophies in his footballing career, and with Inter struggling at the moment, Sneijder may prefer to make the move to United to achieve his goals.
Sir Alex Ferguson has insisted that the English giants won't be signing any new players in January, but with an injury list building up, and Tom Cleverley and Anderson both out for lengthy spells, the club may have no choice but to look into purchasing a playmaker to try and cope with the loss of the retired Paul Scholes.