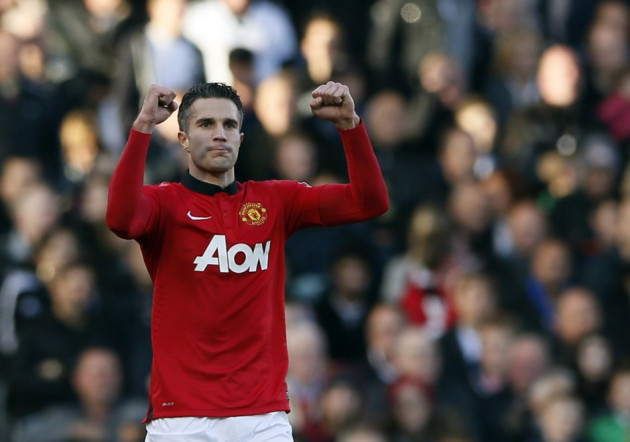 1835: So that concludes our coverge for today. It's been another interesting one with Spurs losing at home, Stoke securing a late equaliser against Swansea, Manchester City suffering a shock loss to Sunderland and Manchester United getting back in the title race with victory over Arsenal. Until next time, enjoy the rest of the weekend.
1834: Manchester United manager David Moyes: "It's been a great weekend - we've not had many of them! This was a big result for us today, Arsenal have been in terrific form this season and we had to play well to get the result.
"We started very well then at the end our determination, effort and commitment helped us when we were under more pressure. We gave them too much room in the second half but restricted them in the first. Overall, it's three important points.
"Nemanja Vidic has gone to hospital. I didn't see how bad it was from the touchline but I know it was a terrible clash. I'll find out more from the medics later on."
1831: Arsenal manager Arsene Wenger: "We conceded a goal on a set piece and in a big game that makes a difference. We rushed our game too much and lost too many balls. In the second half we were composed, had a real go and played our usual game.
"We were very, very, very close a few times. The heart was in the game, the desire was in there, but maybe a bit too much in the first half. We are quite strong on defending set pieces and I was surprised we were caught on the near post. We had to give a lot this week - Liverpool, Dortmund and here today. I think a draw would have been a fair result today."
1827: So that is David Moyes' biggest win as United boss. They could well be back in the title hunt but Arsenal are still two points clear at the top. Do we think they are still the favourites for the title, let us know.
1819: Wayne Rooney: "We knew we had to win today at all costs. That was the toughest we've been to break down and we defended really well. We knew we could not afford to lose today, we couldn't let Arsenal get 11 points away from us.
"The other results today and yesterday also gave us a boost and we are right back in it now. Arsenal have a lot of smaller players in the team so we thought we could score from set-pieces, we worked on that.
"It's a massive lift, a great weekend for us ahead of the international break. Our aim is to be top or thereabouts at the New Year."
1815: Rio clearly happy with that win.
Big set of results for us today, not season defining but big all the same. Whatever happens @ManUtd will fight/compete to the very end #mufc
— Rio Ferdinand (@rioferdy5) November 10, 2013
1810: Opta stat: The last team to stop Arsenal from scoring in a league match was David Moyes' Everton on April 16th; 16 games ago. Shackled. 1808: Manchester City are down in eighth now after their loss to Sunderland earlier today. Manuel Pellegrini is yet to figure out how to get his side to play away from home. 1806: That has made it a lot tighter at the top. Just five points seperate Arsenal in first and Tottenham in seventh. 1805: It's all over. What a win for Manchester United who are now up to fifth in the league thanks to a Robin van Persie header in the first half. 1803: Another wicked ball in from Sagna and once again no one has go near it. An Arsenal player had to take a chance there. 1802: Only three minutes of injury time. 1800: Evra looks absolutely shattered and Gnabry is finding plenty of space down the right but Arsenal just can't create a clear chance. United have nearly everyone behind the ball now as we approach the 90th minute. 1757: Just five minutes and stoppage time to go at Old Trafford. Can Arsenal find a late equaliser? 1756: Some Arsenal pressure comes to nothing and Van Persie comes off to huge cheers as Marouane Fellaini comes on to help United hold on to this lead. 1755: Lively stuff from Gnabry on the right who finds Giroud who just takes too long to get his shot away. Moments later Ramsey feeds the Frenchman and it is deflected for a corner. 1753: Arsenal finally looking to introduce some much needed pace as Serge Gnabry comes on for Arteta. 1753: What a chance for United. Chris Smalling ghosts in front of Bendtner at the back post and stoops to head Van Persie's free kick but it glances of his head and goes wide. A better connection and Szczesny would have had no chance. 1751: Piers Morgan not a happy Arsenal fan right now.
They bring on Giggs, we bring on Bendtner. Never, ever, going to win the League like this. #AFC — Piers Morgan (@piersmorgan) November 10, 2013
1750: Not sure how happy Arsenal fans will be with this substitution as Nicklas Bendtner comes on for Cazorla.
1749: This hasn't been the greatest game but you have to applaud the way United have defended. Now they bring on Ryan Giggs who is appearing against Arsenal for an amazing 50th time. Kagawa makes way.
1748: Another couple of chances for Arsenal as Koscielny's initial attempt is blocked and then Gibbs has an effort from long range but it is straight at De Gea.
1746: Stat: Arsenal have had 72% possession since the 60th minute. Threatening.
1745: Arsenal are knocking on the door as Sagna delivers a delicious cross but no one can get a touch on it. Can they create one clear cut chance in the next 15 minutes?
1743: Ozil is having a rather poor game as he has the chance to put Giroud through on goal but his pass is poor and easily cut out by Jones. Arsenal need him to come up with a bit of magic.
1740: United really are defending well and Moyes must be happy with the performance so far. They are denying Arsenal any space.
1738: Rooney attempts an audacious chio on the edge of the box but he doesn't connect properly and it drifts harmlessly wide. RVP and Rooney still look dangerous.
1737: Arsenal are still trying to carve out a clear cut opportunity but United are holding firm at the minute. Phil Jones has been exceptional.
1732: Great chance for Rooney who turns Sagna on the edge of the box but drags his left footed shot just wide of the post. And moments later Arsene Wenger decides to attack as Wilshere replaces Flamini.
1730: Arsenal fans celebrate but Ozil's shot actually hits the side netting. The German gets the ball inside the area on the left but rather than going across the keeper he blasts it at the nearpost and it's just wide. Arsenal yet to have a shot on target.
1728: United win another corner and they have looked dangerous from set pieces. RVP takes this time but it's an easy take for Szczesny.
1726: A bit more open in the last few minutes as both sides get stretched. Arsenal are trying to get the ball into wide areas but Ozil, Cazorla and Ramsey have been very quiet so far.
1723: This Arsenal performance remins me of the display against Chelsea in the League Cup. Struggling to find any holes in a well drilled defence and can't break down a side with lots of men behind the ball.
1720: Another shot from Arsenal but is is extremely poor from Thomas Vermaelen. The Belgian takes a free kick from around 35 yards and smashes it probably 10 yards over the bar.
1719: Early chance for Arsenal as the ball find its way to Aaron Ramsey on the edge of the box thanks to a clever reverse ball from Ozil but the in-form Welshmen's shot it well blocked by Jones.
1716: Vidic is off and he is replaced by Tom Cleverley which means that Jones drops back into defence.
1710: Arsenal struggled for one of the first times this season to break down a side in that first half. They didn't really create anything and they may well look at their bench in order to introduce some pace into the game.
1701: Vidic is up but there is some blood around his mouth and he looks unsteady. United will probably assess it over half time but I would be surprised if he comes out for the second half. And now the whistles goes and United lead 1-0 at Old Trafford.
1659: We've got another player flat on the deck after De Gea meets a cross and he collides with Vidic. The big Serbian hasn't moved for a while and I wonder whether he'll be able to carry on.
1656: Flamini picks up his fifth yellow the season for a tackle on Jones and he will miss the Southampton game.
1654: The Polish keeper is up and he's continuing but that was a nasty clash and Jones has been booked. Somewhat harshly I think.
1653: Another corner for United controversially given as it looked like it came off Kagawa last and Wojciech Szczesny looks in trouble here and he hasn't moved at all. The players look a bit shocked and the dosctors have come running on. He seems to be talking but it was a nasty accidental clash of head with Phil Jones.
1652: Opta Stat: 14 - Since the beginning of last season, Wayne Rooney has more assists in the Premier League than any other player. Service.
1648: Giroud has a half chance after latching onto a cross from the right but he has a lot to do and can only head over the bar. Arsenal just struggling to create as United get eight men behind the ball at nearly all times.
1646: Arsenal are struggling to get past the United backline. Phil Jones is also doing a very good job pressuring the midfielders and he has stolen the ball on several occasions already.
1642: First booking of the match and it is Bacary Sagna who brings down his international teammate Patrice Evra.
1641: Arsenal now have a chance to respond as they earn a free-kick on the right which Ozil will take. But it's poor and esily cleared by RVP.
1639: GOAL: Robin Van Persie. Rooney then takes the corner and it is met by the former Arsenal striker who glances a header at the front post across Szczesny and over the head of Gibbs on the line.
1638: United earn a corner after a brilliant ball in from Rooney is well defended by Varmaelen.
1636: No goals in Manchester yet but there are in the other Premier League game as Stoke go 2-0 against Swansea thanks to Stepehn Ireland adding to Jonathan Walters opener.
1633: Still not much happening at Old Trafford as both sides feel each other out. Arsenal look a touch unsettled at the back though as it's been a while since Vermaelen and Koscielny played with one another in the a league game.
1628: Just over 15 minutes gone and it's a bit cagey. Most of the play is in the central area of the pitch as neither side has really looked too threatening going forward.
1625: This is a confident start from United. They are bossing the early possession and Rooney is seeing plenty of the ball. Arsenal yet to get going.
1621: First shot of the match as Wayne Rooney trys his luck from fully 30 yards. It's a crisp strike but it's easy for Szczesny.
1620: Phil Jones showing early on that he has been given the job of stealing the ball in midfield and you have to believe he will have to do a lot of defending in that central midield role.
1616: First time Arsenal have got on the ball but United are pressing well early on. Moyes will know how important it is to boss the midfield today which won't be easy against Ozil, Cazorla, Flamini and co.
1613: Early corner for Manchester United and they keep up the pressure with some neat passing and some controlled possession.
1612: Away we go.
1609: We have a minutes silence and then Old Trafford will erupt.
1605: Last week you could have got 40/1 on Arsenal beating Liverpool, Borussia Dortmund and Manchester United. Despite illness hitting the squad, you have to fancy their chances of winning at Old Trafford.
1602: STAT: In the last 15 Premier League games between Manchester United and Arsenal at Old Trafford there have been 10 penalties and 6 have been missed. Drama.
1558: So Arsenal haven't won at Old Trafford since 2006 when Emmanuel Adebayor scored the winner in the 86th minute. They look the best side in the Premier League by some way and come into this game having beaten Liverpool and Borussia Dortmund. Can they complete a memorable treble.
1554: Moyes must be praying United don't pick up any injuries at the back today as there are no defenders on the bench. Looks like attack is the only way to go.
1550: Manchester United boss David Moyes: "Arsenal have good possession and we must try to disrupt that, but we also need to get on the ball and make use of our threatening players.
"Arsenal have a lot of midfield players packed in the middle of the park and we must cope with that and look to get out wide and hurt them down the wings."
1549: Arsenal's plans have been disrupted by a sickness bug in the camp that has cost them Per Mertesacker and Tomas Rosicky. However, they have decent replacements in Thomas Vermaelen and Mathieu Flamini.
1547: Let's start off with the line ups.
Man Utd: De Gea, Smalling, Vidic, Evans, Evra, Valencia, Jones, Carrick, Kagawa, Rooney, van Persie. Subs: Giggs, Lindegaard, Hernandez, Nani, Cleverley, Fellaini, Januzaj.
Arsenal: Szczesny, Sagna, Koscielny, Vermaelen, Gibbs, Arteta, Flamini, Ramsey, Ozil, Cazorla, Giroud. Subs: Wilshere, Monreal, Fabianski, Bendtner, Jenkinson, Gnabry, Hayden.
Referee: Michael Oliver (Northumberland)
1545: We're back and it's another huge game, this time we're at Old Trafford as Manchester United take on league leaders Arsenal. The big news is that despite early rumours stating he would miss the game, Robin van Persie does start against his former team.