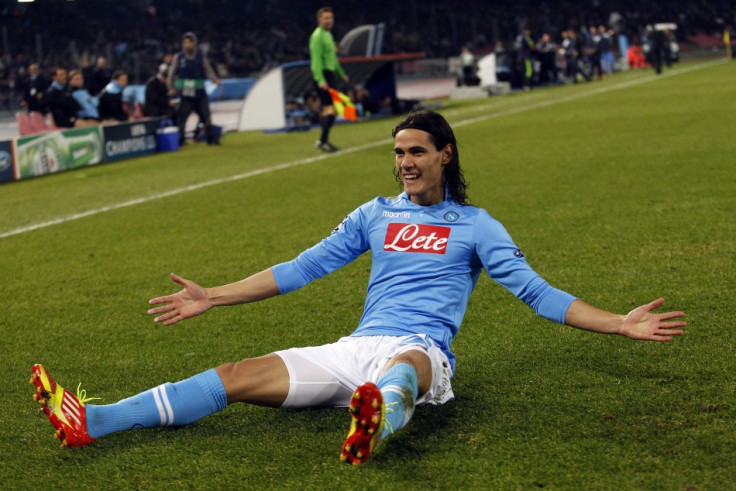 Manchester United and City target Edinson Cavani believes that he can take Napoli to new triumphs this season, in both the Champions League and the Serie A.
Cavani is wanted by numerous clubs, and after he scored a brace against Manchester City in the Champions League group stages this week to take the Italian outfit to an unexpected win over their big spending rivals, the striker is in even higher demand as January nears.
And with Manchester United also said to be monitoring Cavani's performances, the 24 year old has admitted to being flattered by the interest, but wants to take Napoli to glory both domestically and in Europe.
"It's an honour to know there are many important coaches who are interested in me," he told La Gazzetta dello Sport.
"These are managers who only coach prestigious clubs. I'll probably be fine working with them.
"But for the moment, Napoli is best for me. The fans show affection and make me feel important. I am enjoying the moment and want to win with this shirt."
Cavani is hoping to recreate the glory days of Napoli legends Diego Maradona and Careca, and with other current big names Ezequiel Lavezzi and Marek Hamsik, the trio are on their way to becoming a force to be reckoned with throughout Europe.
"Thinking that we are following in the footsteps of Maradona and Careca is something very beautiful, it's the greatest satisfaction," he said.
Cavani insisted that he believes Napoli can go all the way, though he admitted that if a club like United or City came knocking, he might be tempted to move depending on the circumstances.
"I feel ready for anything," he explained. "I'm not afraid of anything and I don't fear comparisons.
"Who knows, tomorrow there could also be an option other than Napoli, we will see in the future."
United might be looking to boost their attacking options in January, particularly if Dimitar Berbatov wants to leave the club after receiving limited starts in both last season and this one.
Ferguson has said that he wants to keep the striker on board to provide depth in the squad, but if the Bulgaria international wants to find a side that will give him a regular starting spot, Ferguson will be in the market for a hitman to back up the likes of Javier Hernandez, Wayne Rooney and Danny Welbeck.
And after City admitted last week that they were scouting the Uruguay international, a transfer tussle looked likely, but Cavani doesn't appear to be available until next summer at the very least.