A university in Colorado has backed down over controversial guidelines it issued to students on how to avoid rape and sexual assault.
The University of Colorado at Colorado Springs (UCCS) published a website list of 10 steps showing students how to avoid becoming a victim of a sexual attack, which included throwing up over the would-be rapist or pretending to be menstruating.
It said potential assault victims should vomit or urinate on their assailant and may suggest "you have a disease or are menstruating".
After an outcry by students and women's groups, college authorities took down The Last Resort Tips.
The recommended actions were:
1. Be realistic about your ability to protect yourself.
2. Your instinct may be to scream, go ahead! It may startle your attacker and give you an opportunity to run away.
3. Kick off your shoes if you have time and can't run in them.
4. Don't take time to look back; just get away.
5. If your life is in danger, passive resistance may be your best defence.
6. Tell your attacker that you have a disease or are menstruating.
7. Vomiting or urinating may also convince the attacker to leave you alone.
8. Yelling, hitting or biting may give you a chance to escape, do it!
9. Understand that some actions on your part might lead to more harm.
10. Remember, every emergency situation is different. Only you can decide which action is most appropriate.
After causing an uproar on social media websites, the UCCS apologised for any confusion or offence and claimed the tips were taken out of context.
Tom Hutton, university spokesman, said: "No policy was changed by the university and no advisories were sent to students.
"The page in question was created in 2006 as supplemental material for women who had completed an internationally recognised rape aggression defence course offered free to UCCS students.
"The 10 tips are considered last resort options when all other defence methods have been exhausted.
"This site was intended as a reminder for graduates of the RAD program, an intensive self-defence programme, and part of a larger discussion of last-resort tactics.
"As a response to recent interest in the page, the Department of Public Safety will update it to provide additional context and information about crime prevention and the opportunity to enrol in the RAD class."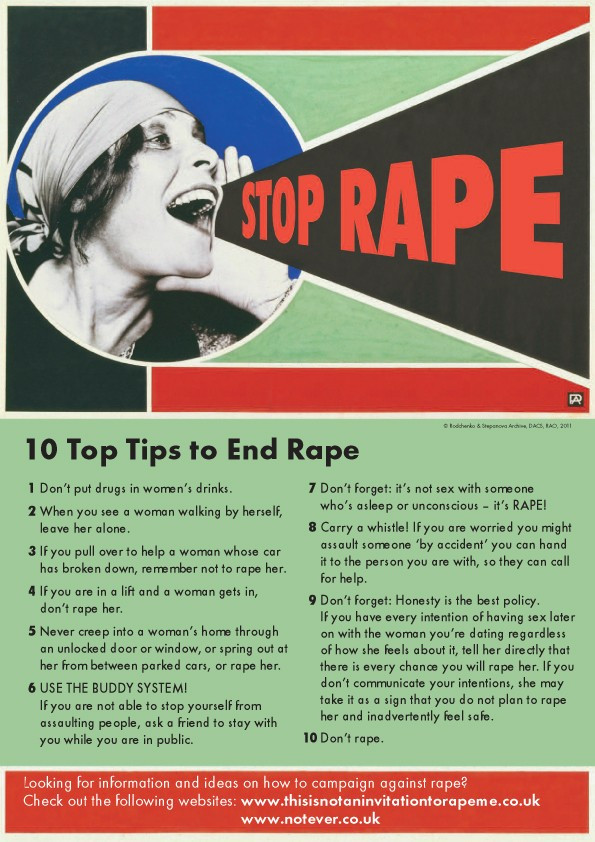 But online users continued to berate the institution.
Student Jessica Judkins said: "Regardless of the context, these suggestions are insulting and at the very least outdated."
Others voiced outrage that the university would issue tips on how to not be raped but ban students from carrying guns.
Geoffrey Wynn said: "Thanks for allowing rapists to know where to go for a feeding frenzy, you friggin dolts. You liberal men won't protect your women as it is but now you ask them not to protect themselves? My 11-year-old daughter will never attend your college or one like yours, cowards!"
Nate EG added: "You want our female students to throw up on their attackers? How about using common sense and allowing students to be armed so they can properly defend themselves? I am absolutely embarrassed to be an alumnus."
Campaigns and comments that seek to "educate" women about avoiding rape rather than educating rapists have angered many critics in recent months.
In January, actress Joanna Lumley caused a storm when she told women: "Don't stagger about in the wrong clothes at midnight."
In 2012 West Mercia Police in Shropshire came under fire for saying women put themselves at risk of rape by drinking.
Its posters said: "Don't let a night full of promise turn into a morning full of regrets.
"Don't leave yourself more vulnerable to regretful sex or even rape. Drink sensibly and get home safely."
The force apologised after a public outcry.