The Pentagon plans to expand combat air patrols flights by drones, or remotely piloted aircraft, by as much as 50 percent over the next few years to meet an increased need for surveillance, reconnaissance and lethal air strikes in more parts of the world. The US Air Force had initially wanted to reduce the number of daily combat air patrols, but the fight against Islamic State (Isis) has seen the target increase from 61 today to as many as 90 by 2019.
A senior defence official said increasing the number of drone flights would broaden surveillance and intelligence collection in such places as the Ukraine, Iraq, Syria, the South China Sea and North Africa. Drones are a key weapon in the fight against IS. The group's notorious executioner Jihadi John is thought to have been killed by a missile fired from a Reaper drone flown by the RAF. It is estimated that unmanned aircraft strikes have killed 3,000 people or more.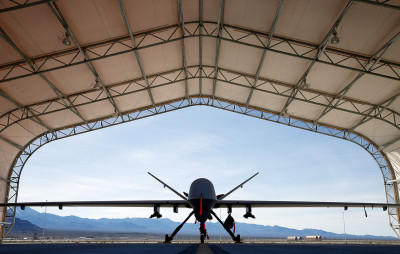 Another country looks likely to join the US and Britain in the armed drone club. The US State Department has also approved a longstanding request from Italy to arm its two MQ-9 Reaper drones with Hellfire missiles, laser-guided bombs and other munitions. This would make Italy only the second country to be approved to buy armed drones after Britain, which has been using them since 2007.
The most frequently used drones are the MQ-1 Predator and the newer MQ-9 Reaper, both developed by General Atomics Aeronautical Systems.
Building more drones is one thing, but finding – and, crucially retaining – the pilots to fly them is another. The US Air Force is facing a mass exodus of drone pilots and crews, who complain of too much work, too much stress and too little chance for promotion. In an effort to stem the loss, existing pilots are being offered an annual bonus of $15,000 (nearly £10,000).
Drone pilots fly about 900 hours per year, compared with an average of 250 hours for fighter pilots. Most drone pilots work at Creech Air Force Base near Las Vegas, Nevada. Isaac Brekken visited the base to photograph the aircraft and the crew operating and maintaining them.