US planes drop bombs near Korean DMZ during military exercises
South Korea and US warplanes put on a show of force after North Korea fired a missile over Japan.
The US military flew bombers and jets over the Korean peninsula on Monday, 18 September, days after North Korea fired a missile over Japan.
In a strong show of force against the Kim Jong-un regime, the US flew two B-1B nuclear-capable bombers flanked by F-35B fighters, while its South Korea allies flew four F-15K fighters armed with MK-82 bombs, two F-16 jets and two KC-135 tanker refuelling planes.
South Korea's Air Force Command Centre told the Yonhap news agency that the US jets originated from their bases in Guam and Japan.
Live fire and inert bombing runs were conducted at the the Pilseung shooting range in Taebaek, Gangwon Province, which borders the military demarcation line (MDL) which has separated the two Koreas since armistice in 1953.
The military exercises come after Pyongyang fired what is suspected to be an intermediate range ballistic missile (IRBM) on Friday, 15 September. The projectile travelled for about 3,700km, passing over Japan before crashing into the Pacific.
The US often flies its supersonic B-1B bombers as a show of strength against the North and show of solidarity with the South when Pyongyang engages in an aggressive act. The Kim Jong-un regime strongly opposes such steps and routinely chides any joint-military event undertaken by the US and South Korea.
"The exercise was held as part of regular exercises aimed at bolstering capability of extended deterrence. In the days to come, the South Korean and US navies will display the deterrent power of combined forces through joint exercises involving US strategic bombers," said the South Korean defence ministry.
The South Korean defence ministry had earlier revealed that the US Navy's aircraft carrier-led strike group would arrive near North Korea in October to participate in naval exercises.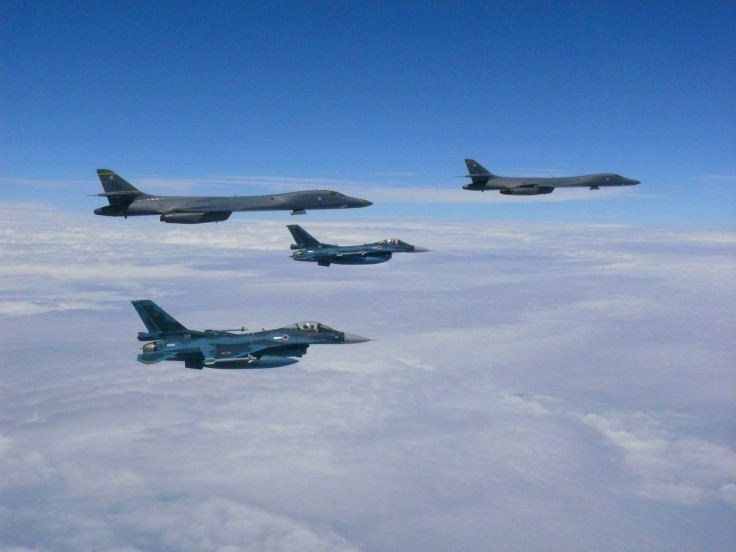 © Copyright IBTimes 2023. All rights reserved.