When North Korea launched another ballistic missile across Japan on the morning of Friday 15 September, it proved for the first time that it could reach the US territory of Guam, which Pyongyang has often threatened it would target.
North Korea threatened to strike Guam in August following rising tensions sparked by an intense war of rhetoric between its leader Kim Jong-un and his US President Donald Trump. Responding to Trump's statement that any threat to the US would be met with "fire and fury", Pyongyang said its army was "carefully examining" a plan to strike Guam with "enveloping fire".
The latest missile, believed to be an intermediate range ballistic missile (IRBM), passed over the Japanese island of Hokkaido and landed in the Pacific Ocean. It reached an altitude of about 770km (478 miles), travelling for 3,700km. Guam, an island in the western Pacific, and which houses a US military base, is about 3,400km from North Korea – meaning it was within the range of the missile.
It was the second time in a month that North Korea fired a missile over Japan, amid rising tensions in the region and fears of a possible nuclear war.
The US military said the missile did not pose a threat to its territory of Guam. However, Japan's defence minister, Itsunori Onodera, said he believed North Korea "has Guam in mind", AFP reported.
"We cannot assume North Korea's intention, but given what it has said, I think it has Guam in mind," he said.
Onodera warned that "similar actions would continue" given the fact that the latest missile was fired in spite of a fresh round of UN sanctions against Pyongyang, agreed earlier this month in response to a nuclear test North Korea carried out 3 September. It is thought that test was of a hydrogen bomb.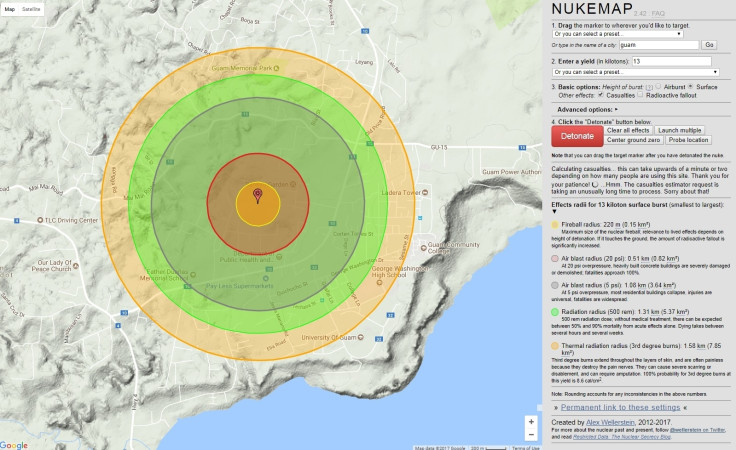 Reacting to the sanctions, Pyongyang threatened to sink Japan and reduce the US to "ashes and darkness". The UN security council is to meet on Friday to discuss the latest move by Pyongyang.
Although Tokyo said there was no danger to people, it described the latest launch as an unprecedented threat. "If North Korea continues to walk this road, there will be no bright future. We need to get North Korea to understand that," Japanese prime minister Shinzo Abe said.