US bombers fly close to North Korea in display of military strength
President Donald Trump has sent a strong warning to North Korea as tensions escalate over Pyongyang's nuclear programme.
President Donald Trump has sent a strong warning to North Korea that he "has many military options to defeat any threat," as US bombers flew close to North Korea's east coast today (23 September).
The ongoing war of words between Trump and North Korean dictator Kim Jong-un escalated after North Korea conducted a powerful nuclear test on 3 September, suspected to be a hydrogen bomb.
The US has responded to North Korea's 'reckless behaviour' by displaying their military capabilities, sending the U.S. Air Force B-1B Lancer bombers closer to the demilitarised zone than any US fighter jet or bomber has flown in the 21st Century, BBC News reports.
The Pentagon said the flight is an indication of "the seriousness" with which the US takes North Korea's provocations.
"This mission is a demonstration of US resolve and a clear message that the president has many military options to defeat any threat," said the Pentagon. "We are prepared to use the full range of military capabilities to defend the US homeland and our allies."
Trump and Kim have been trading insults and threats. over Pyongyang's nuclear ambitions and each have threatened military action.
Kim issued a personal statement, in which he referred to the President as a "dotard".
"Now that Trump has denied the existence of and insulted me and my country in front of the eyes of the world and made the most ferocious declaration of a war in history that he would destroy [North Korea], we will consider with seriousness exercising of a we will consider with seriousness exercising of a corresponding, highest level of hardline countermeasure in history," Kim said in a statement.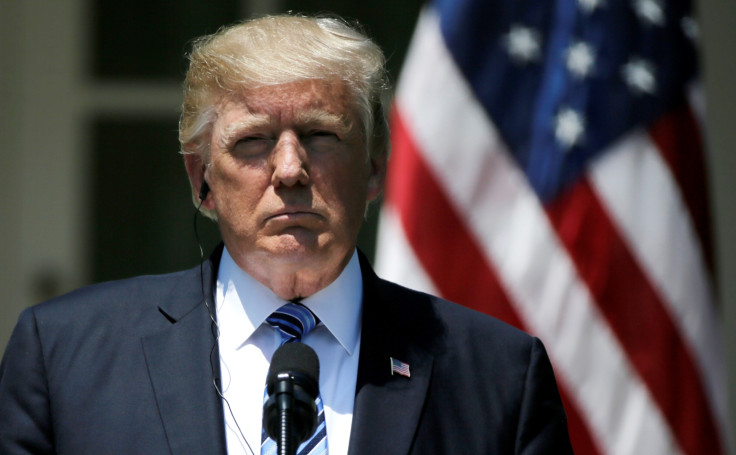 At the UN on Tuesday, President Donald Trump retaliated with equal aggression saying that he would "totally destroy" North Korea if the US was forced to defend itself or its allies.
"Rocket man is on a suicide mission," Mr Trump said.
The rising tensions between the two nations has worried countries neighbouring North Korea, like Russia and China, who have urged both the countries to exercise restraint.
Stressing the need to stop these provocative rhetoric from both sides, Russian Foreign Minister Sergei Lavrov told reporters: "We have to calm down the hotheads and understand that we need pauses, we need contacts.
"We continue to strive for the reasonable and not the emotional approach... of the kindergarten fight between children," he said and noted that "the nuclear-missile gambles" being played by Pyongyang and US threats of waging a war on the Korean Peninsula do not lead to defusing the tensions in the Asian region.
Earlier on Saturday at 5.29pm local time (8.29am GMT), a magnitude 3.4 tremor was detected near North Korea's nuclear test site, sparking fears that the regime had conducted yet another nuclear test. But experts and international nuclear test monitors said they believed it was a natural quake.
© Copyright IBTimes 2023. All rights reserved.