US Defense Secretary to make first overseas visit to Japan and South Korea in February
Mattis was sworn into the top job at Pentagon shortly after Donald Trump's inauguration.
The US Defense Secretary James Mattis is expected to make his first overseas visit to Japan and South Korea in early February, an American official said on Tuesday (24 January).
Mattis is believed to be the first Cabinet member of the Donald Trump's administration to visit the Asian countries since the Republican businessman's inauguration as president on Friday.
Mattis, who was sworn into the Pentagon's top job shortly after Trump's inauguration, is scheduled to first meet with the Japan's Defence Minister Tomomi Inada on 3 February, shortly after paying a courtesy call on Prime Minister Shinzo Abe.
Both the counterparts are likely to talk about the strengthening of relations between Tokyo and Washington.
The two officials would also discuss the importance of the US engagement in ensuring stability in the Asia-Pacific region.
According to reports, Mattis and Inada may also exchange views on China's military build-up in disputed South China Sea and North Korea's development of nuclear weapons and ballistic missiles.
They are also expected to discuss a plan to relocate the US Marine Corps Air Station Futenma within Okinawa Prefecture, the official said.
However, on 4 February, the US defense chief would visit South Korea to meet with Seoul's Defense Minister Han Min-koo and Prime Minister and acting president Hwang Kyo-ahn.
Mattis' planned visit to Seoul is a sign the "Trump administration is taking North Korea's threats seriously", a South Korean defense official said and added that the deployment of the US missile defense system Terminal High Altitude Area Defence system (Thaad) could be discussed in the meeting.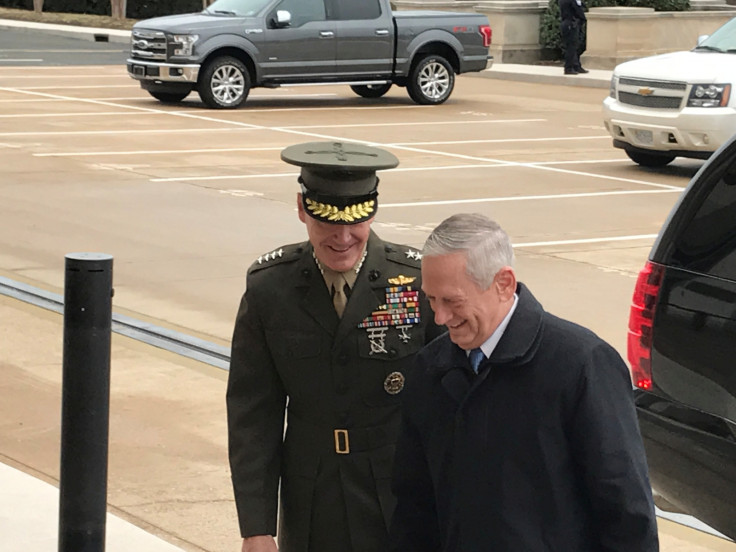 South Korea has said Thaad would be deployed by mid-2017, but China has been striking back with sanctions against South Korean companies.
Meanwhile, it remains unclear whether Mattis would discuss the issue of military cost sharing with Han, which Trump had mentioned during his presidential campaign.
At present, there are around 28,500 US troops based in South Korea helping to defend the country against North, which has officially remained in a state of war with Seoul since the 1950-53 Korean conflict.
© Copyright IBTimes 2023. All rights reserved.