Donald Trump and his wife Melania stopped by the White House for the traditional private meeting of outgoing and incoming presidents and their spouses. Posing for photos on the North Portico, the couples exchanged hugs as Barack Obama chatted about the demands of protocol. Trump and Barack Obama rode together to the US Capitol as the real estate mogul and reality TV star who upended American politics prepared to be sworn in as the 45th President of the United States. His ascent puts Republicans in control of the White House for the first time in eight years.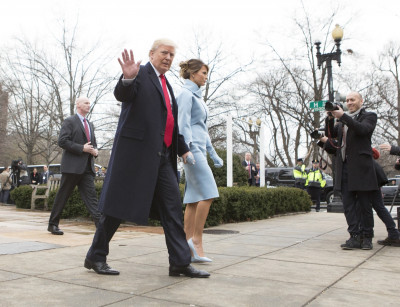 All of the living American presidents are attending the swearing-in ceremony, apart for 92-year-old George HW Bush, who was hospitalised this week with pneumonia. Hillary Clinton, Trump's vanquished campaign rival, also joined dignitaries at Capitol Hill.
People flocked to Washington, DC, for the inaugural festivities, some wearing red hats emblazoned with Trump's "Make America Great Again" campaign slogan. Protesters were out in force too, in some cases slowing the progress of visitors passing through checkpoints. Police in riot gear were deployed around the city to keep the peace.