The display of a nude painting of impeached South Korean President, Park Geun-hye, during a painting exhibition at the National Assembly has sparked a controversy in the political circles of the country on Tuesday (24 January). All the political parties condemned the act, with the main opposition Democratic Party calling for action against the people responsible.
The painting exhibition was reportedly part of a protest by opposition lawmaker Pyo Chang-won over the corruption scandal that led to Park's impeachment. The exhibition also had paintings of Park's aide Choi Soon-sil, who is at the centre of the influence-peddling scandal.
The painting that led to the controversy was titled Dirty Sleep and featured the impeached president lying naked and holding a missile to her bosom. South Korean painter Lee Koo Young's version was a parody of the 19th century original titled Olympia by Edouard Manet, which features a white woman — identified as a prostitute — staring boldly out at the viewer, while a black servant brings her flowers, the Strait Times reported.
The floor leader of the Democratic Party, Woo Sang-ho, on Wednesday strongly condemned the display, calling it "a punishable act". He said Pyo has already been referred to the ethics panel for organising the controversial exhibition. The party "will promptly take steps for punishment through the ethics committee", he said.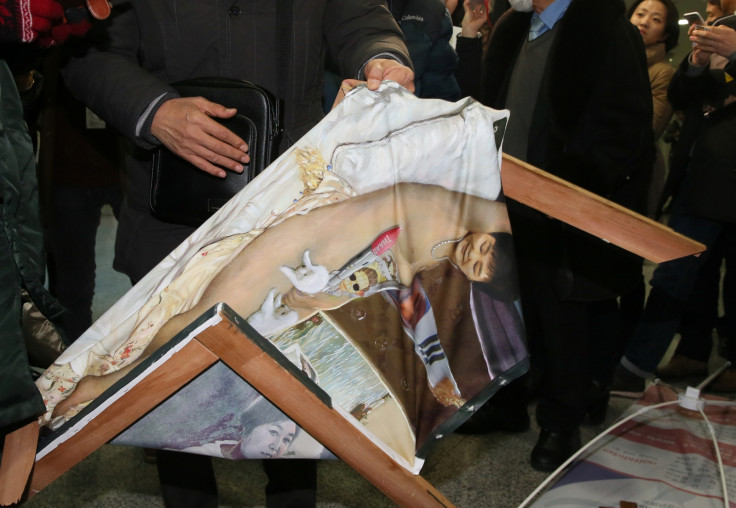 Woo also said that Park supporters who threw the painting to the ground and engaged in violent protests will also be punished, according to Yonhap news agency.
The ruling Saenuri Party and splinter Bareun Party also condemned Pyo's exhibition. "The incident not only insulted women, but damaged the country's reputation," Kim Sung-eun, a member of Saenuri's emergency committee said, calling for Pyo's resignation.
Rep Choung Byoung-gug, the chief of the Bareun Party, said: "Artists are free to satirise and make parodies of politicians. But if politicians take advantage of the arts for political intentions, the artistic value can be distorted."
Pyo, meanwhile, said he will take responsibility for the controversy, but urged that the exhibition should be respected in terms of freedom of speech.