Ben Carson ended the latest televised debate between the Republican Party's candidates for the presidential election by quoting Russia's infamous dictator Stalin. Or rather, he thought he did.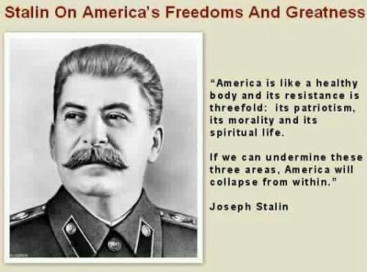 In the closing remarks for the debate on 13 February, hosted by CBS, Carson said: "Joseph Stalin said if you want to bring America down you have to undermine three things — our spiritual life, our patriotism, and our morality."
But earlier in February, the fact-checking website Snopes had already looked into the origins of Stalin's alleged statement, and found no evidence he had ever said it. The website said that it was "highly unlikely that Stalin ever spoke these words", as their research could not find any dated sources for the quote in any of his speeches, interviews or writings.
Carson's use of the quote led to him being ridiculed on social media.
Ian Punnett, an Episcopalian deacon and host of the US radio show Coast to Coast, wrote: "Ben Carson closed GOP debate w/a fake Stalin quote. Next he'll blame the media for pointing that out. Stupid media."
Steve Silberman – a writer and editor for the tech-culture magazine Wired – described Carson as "perpetually embarrassing".
Adam Reakes, a host of the podcast Herd Mentality, said the showed Carson "is about as smart as we thought he wasn't".
Dr Gaffe
This is not the first time Carson has gaffed during his campaign trail. While speaking to a campaign rally at a private school on 7 January, Carson asked a group of fifth-grade pupils: "Who is the worst student?" The crowd immediately picked out 10-year-old Seth Blackford. Blackford was embarrassed at first, but was later said to have got over it.
When asked by the Register why he had asked the question, Carson said, "I figured people would be pointing around to all different people who they didn't like."
Before he entered the world of professional politics, Carson was the Director of Paediatric Neurosurgery at John Hopkins Hospital for 29 years. In 2013, he leapt to fame in the US conservative movement after giving a speech during the National Prayer Breakfast – an annual gathering of the social, political and business elite of the US and international guests.