Republican presidential candidate Donald Trump used the launch of his new book "Crippled America" to call for low polling GOP candidates to exit the race, while praising Wisconsin Governor Scott Walker for dropping out early. The real estate mogul, who has been leading the polls, said the high number of candidates makes it difficult for important questions to be asked during the GOP debates.
"I think he did a really smart thing for himself and frankly other people should get out," Trump said of Walker's decision to exit the race in September due to low polling and financial troubles. "If a person has been campaigning for four or five months, and they are at zero, or a 1 or a 2%, they should get out," he told reporters during a press conference at Trump Tower. "There are too many people."
According to The Wall Street Journal, Trump did not mention any specific candidates but relied solely on polling numbers. "Other people should get out because I would like to personally have more time to talk about the problems of the United States and more importantly how to solve the problems because we can solve the problems," he continued.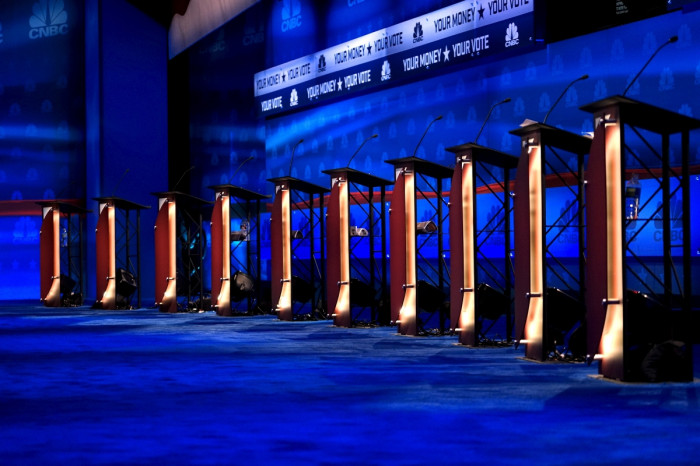 Trump also used the opportunity to slam the two candidates from Florida, Senator Marco Rubio and former Governor Jeb Bush. He criticised Rubio for missing Senate votes as he campaigns for president and continued to mock Bush's energy and debate style, the Wall Street Journal reported. "Marco is overrated. Frankly had Bush been a better messenger, he has the better message," he said.
Earlier in the day, Trump also called Bush to drop out of the race saying the former favourite "has no chance" and is "wasting his time". Since June, Bush has seen a dramatic decline in the polls, while Trump has enjoyed a steady dominance over his fellow Republican contenders.
However, the bombastic former reality TV star has experienced a slight decline in recent polls, as fellow Washington outsider Ben Carson continues to rise. A recently released Wall Street Journal/NBC News poll found Carson with 29% support to Trump's 23%. Trump did not appear worried about Carson's gains, telling CNN that the retired neurosurgeon "just doesn't have the experience" or the "temperament" to lead the country economically or on the international stage.