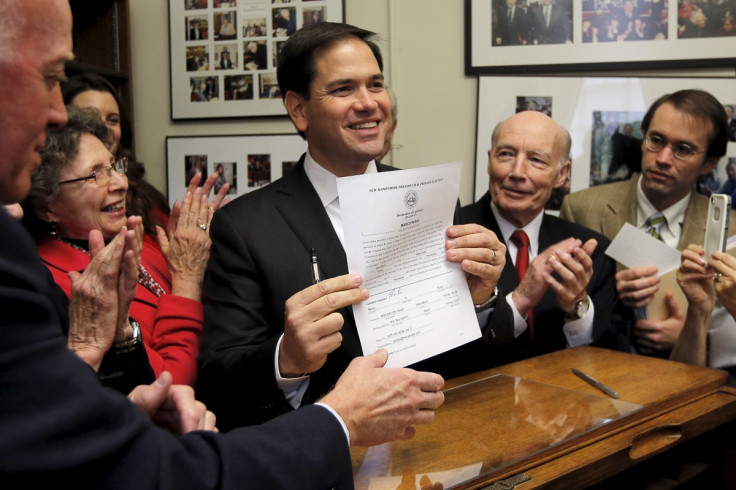 A little over a week from the Iowa Caucuses, voters in New Hampshire are set to head to the polls for the first-in-the-nation primary election of the 2016 US presidential race. What exactly makes New Hampshire different from Iowa and how will voters decide who will be their Democratic or Republican nominees?
Unlike in Iowa, voters in New Hampshire will head to the polls to choose their candidates. Independents, comprising of more than 40% of the voters in the Granite State, are of key importance in the primary. Those unaffiliated voters have the power to decide on election day which primary they would like to vote in.
New Hampshire also differs from Iowa in regards to scheduling. Polling stations open between 6am and 11am throughout the state and close at 7pm. However, a law in New Hampshire notes that communities with fewer than 100 voters can get permission to open the polls at midnight and close them once all registered voters have cast their ballots, according to The Washington Post.
This year, for the first time, New Hampshire's voters will be required to show identification before they cast their votes. A new voter ID law that came into effect in 2013 requires voters to show photo identification before they can obtain a ballot. According to WBUR, those who do not have a photo ID will have to fill out a "challenged voter affidavit" swearing they are who they say they are. Those voters would also need to have their photo taken by an election official.
Voters who fill out the affidavit will have their votes counted, but they will also receive a follow-up letter from the state requiring them to confirm they voted. Responses must be received within 90 days, or else the state will launch an investigation.
The results of the New Hampshire primary are important, but are not always reliable in predicting who will win the party nominations. In the last Democratic primary in 2008, Hillary Clinton won over Barack Obama, but ended up loosing the nomination. For Republicans, John McCain won the primary in 2000 but lost the nomination to George Bush. Eight years later, McCain won both New Hampshire and the Republican nomination.
Recent polls show Donald Trump (Republican) and Bernie Sanders (Democrat) are leading their respective parties. However, the results of the Iowa Caucus, which left the two in second place, could cast doubt on their success in New Hampshire. While Sanders could very well take New Hampshire, his success in other states remains largely unlikely — unless he expands his reach.
Beyond the New Hampshire primary, Democrats will head to Nevada on 20 February for the caucus there, while Republicans head to South Carolina for their primary. Republicans will move on to Nevada on 23 February and Democrats will go to South Carolina on 27 February.