US election 2016: GOP race hots up as Schwarzenegger backs Kasich and Rubio wins Puerto Rico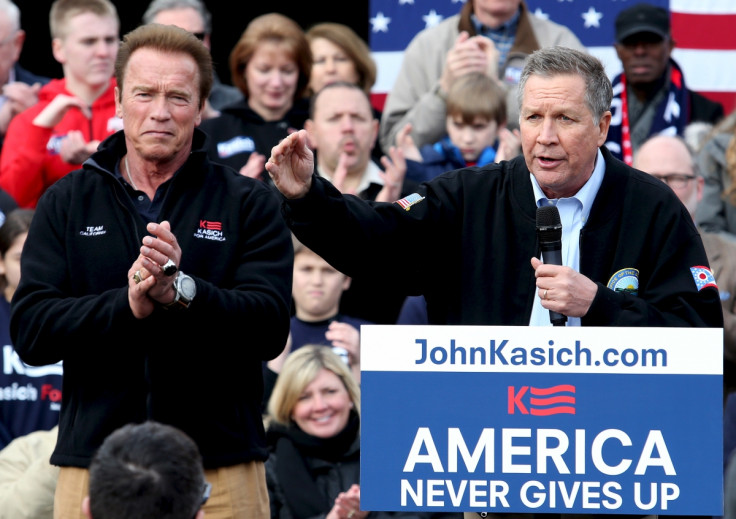 The remaining four Republican presidential candidates had a busy post-Super Tuesday weekend. Super Saturday brought additional wins for Donald Trump and Ted Cruz, while making the nomination a distant goal for Marco Rubio and John Kasich. The weekend, however, brought a special endorsement for Kasich and a second win for Rubio in Puerto Rico.
Super Saturday
Following Ben Carson's formal campaign suspension on 4 March, the remaining four candidates battled it out in four states on Super Saturday. The busy primary and caucus day proved that defeating Trump for the nomination is not as far-fetched as initially believed.
The Republican candidates headed to the Kansas, Kentucky and Maine caucuses and the Louisiana primary, where Trump and Cruz claimed two victories each. Cruz took home victories in Kansas, where he earned 48.2% support and 24 delegates, and Maine, where he won 45.9% support and 12 delegates. Meanwhile, Trump won in Kentucky, with 35.9% support and 17 delegates, and in Louisiana, with 41.4% and 18 delegates. Trump and Cruz have 384 and 300 delegates respectively.
Rubio did not fare well on Super Tuesday, coming in third in Kansas (16.7% support and six delegates), Kentucky (16.4% support and 7 delegates) and Louisiana (11.2% support and five delegates). The Florida governor only earned 8.0% support in Maine and did not receive any delegates in the Pine Tree State.
Super Saturday was even worse for Kasich, who did not take any delegates in Louisiana. The Ohio governor earned one delegate in Kansas with 10.7%, seven delegates in Kentucky with 14.4% and two delegates in Maine with 12.2% support.
Kasich Endorsement
Long-shot candidate and Ohio Governor John Kasich received the endorsement of The Governator himself Arnold Schwarzenegger. The former California governor gave the first Snapchat endorsement of the 2016 election season before giving the endorsement during an outdoor rally in Columbus, Ohio.
"When he went to Washington, he kicked some serious butt," the Terminator actor said. "He was an action hero when he went to Washington." Schwarzenegger continued: "We need John Kasich to now take charge and be at the White House. And this is why I endorse John Kasich, our great governor, to be our Republican nominee and to be the next president of the United States of America—the greatest country in the world."
His continued losses in the primaries and caucuses all but reinforce the fact that Kasich will not win the Republican nomination. He trails Trump, Cruz and Rubio with only 37 delegates. However, he hopes that a win in his home state will give him enough of a boost to win his party's nomination through a brokered convention.
Puerto Rico Primary
Florida Senator Marco Rubio nabbed his second win on 6 March after claiming victory in the Puerto Rico primary. The win comes after four devastating loses on Super Saturday. Rubio won in a landslide with 74% of the vote. He was trailed by Trump with 14%, Cruz with 9% and Kasich with 1%.
According to the New York Times, Rubio took a detour from campaigning stateside to head to San Juan on Saturday (5 March). There he held a mostly Spanish news conference for a last-minute appeal to voters. Rubio's win, which earns him a much needed 23 delegates, allows him to continue his campaign until at least 15 March, when his home state of Florida will head to the polls. The Times noted that Rubio's win in Puerto Rico could help him in Florida, where more than a million Puerto Ricans live.
Rubio continues to trail Cruz and Trump in delegate counts. He currently has 151 delegates and is 1,086 delegates short of earning the Republican nomination.
© Copyright IBTimes 2023. All rights reserved.