The Republican candidate Donald Trump spoke after wins in the Republican Kentucky caucuses and Louisiana primary election, seeking to go head to head with his closest rival: "I would love to take on Ted Cruz one on one." At a press conference Trump said: "Marco Rubio had a very very bad night and personally I call for him to drop out of the race. I think it's time now that he dropped out of the race. I really think so."
On Saturday, Florida senator Rubio finished a distant third in Kansas, Kentucky and Louisiana, and was fourth in Maine.
Ted Cruz took two states in Saturday's voting, gaining Kansas and Maine. He also suggested it was time for opponents such as Marco Rubio and John Kasich – who has only won 34 delegates – to retire from the race.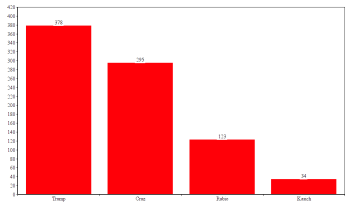 Texas senator Cruz, who has now captured six states, is now the best hope of conservatives and anti-Trump forces to stop the billionaire property magnate.
"I think what it represents is Republicans coalescing, saying it would be a disaster for Donald Trump to be our nominee and we're going to stand behind the strongest conservative in the race," Cruz told reporters in Idaho.
Talking of his "breadth of support," Cruz said it was time for Rubio and Kasich to consider dropping out of the running. "We'll continue to amass delegates, but what needs to happen is the field needs to continue to narrow," he said. "As long as the field remains divided, it gives Donald an advantage."
Currently, Trump has 374 delegates, Cruz has 295, Rubio has 123 which Kasich has a mere 34. A Republican candidate needs to secure 1,237 delegates to become the GOP's presidential candidate.
Romney joins the fight
The "Stop Trump" campaign was joined last week by Mitt Romney, who delivered a fierce attack on the Republican front-runner.
"Here's what I know: Donald Trump is a phony, a fraud," Romney said in a CNN report. "His promises are as worthless as a degree from Trump University. He's playing members of the American public for suckers: He gets a free ride to the White House, and all we get is a lousy hat."
Trump countered Romney's claims in a speech, saying that Romney approached Trump to fund his presidential campaign, the property magnate "could have said, 'Mitt drop to your knees,' and he would have dropped to his knees". "Mitt is a failed candidate - he failed. He failed horribly."
"Mitt is a failed candidate – he failed," said Trump. "He failed horribly."
In Democratic contests, Hillary Clinton scored a commanding victory in Louisiana, the state with the most delegates in play on Saturday, while Senator Bernie Sanders won the Nebraska and Kansas caucuses. Clinton now has 1,121 delegates to Sanders' 479. The Democratic candidates need to secure 2,383 delegates in order to secure their party's nomination for president.