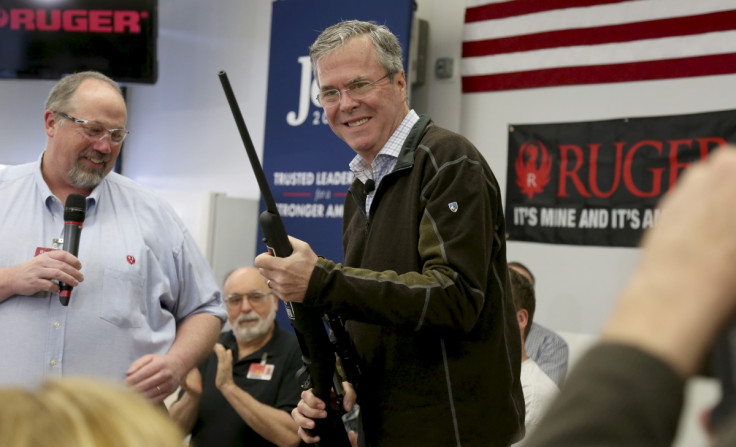 Republican presidential candidate Jeb Bush created a Twitter storm by posting a photo of a handgun with the words Gov. Jeb Bush engraved on it under the one-word caption "America". The weapon was a personalised gift the former Florida governor received after visiting firearms maker FN Manufacturing, in Columbia, South Carolina, where a primary vote is due on 20 February.
The post proved successful in drawing attention to the Bush campaign, which is struggling to gain traction. It amassed more than 18,000 likes and was retweeted at least as many times, trouncing the 63-year-old's usual record of social media engagement.
Not all responses were positive however for Bush, who is currently polling at around 10%, trailing behind Donald Trump, Ted Cruz and Marco Rubio in the race for the south-eastern state home to a large population of military veterans.
Among the numerous critical comments were those of National Security Agency whistle-blower Edward Snowden and WikiLeaks.
Some criticised his pro-gun stance, citing numerous examples of gun violence in the US.
Others posted weapons from fictional worlds, such as Star Wars' Tatooine and Harry Potter's Hogwarts, or just poked fun at the presidential hopeful.