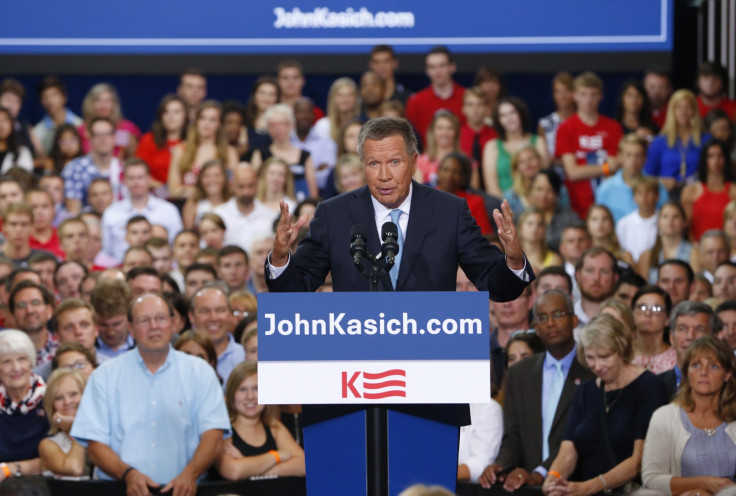 The Republican presidential field got a little bit more crowded on 21 July when Ohio Governor John Kasich announced his decision to run in the 2016 election. Kasich is the sixteenth candidate for the GOP.
The 63-year-old made his official announcement at Ohio State University, telling the crowd "the sun is rising" in America again.
"I am here to ask you for your prayers, for your support, for your efforts because I have decided to run for president of the United States," Kasich said.
According to NBC News, Kasich's speech focused on some of the biggest concerns among American voters: jobs, health care costs and debilitating student debt. However, the GOP's newest candidate was also optimistic about the country's future.
"The sun is rising, and the sun is going to rise to the zenith in America again," he said. "I promise you."
During his speech, Kasich touted his past executive experience and his time working for President Ronald Reagan. "I have to humbly tell you that I believe I do have the skills, and I have the experience and the testing that shapes you and prepares you for the most important job in the world," he said.
NBC News noted that the former congressman is considered a fairly moderate Republican with a sturdy resume and experience. Kasich expanded Medicaid in Ohio as part of Obamacare in 2013 and he is reportedly open to creating a path to citizenship for undocumented immigrants.
However, his late entry to the race into a crowded GOP field means Kasich will have to work hard to rise in the polls. In the latest ABC News/Washington Post poll, Kasich earned 2% among Republican voters.
This is Kasich's second run for the White House. NPR reported Kasich first ran in the 2000 presidential race, saying he was "a little fresher than a lot of the politicians today".