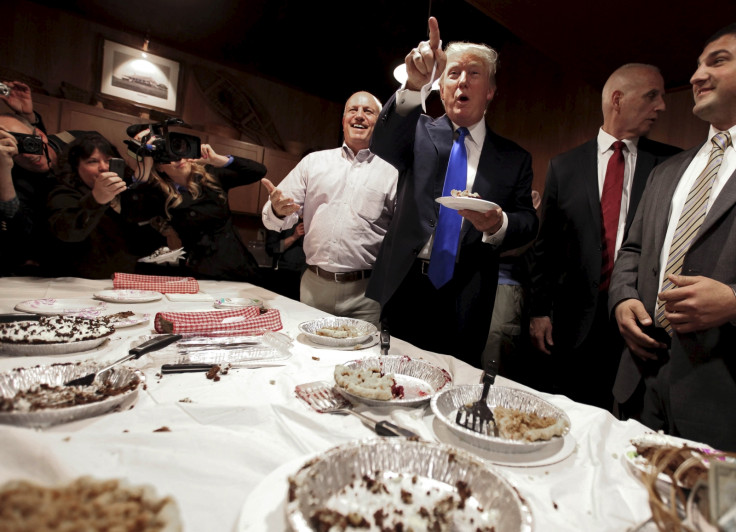 Republican presidential candidate Donald Trump became the centre of ridicule for late night TV host John Oliver during HBO's Last Week Tonight.
Oliver, who like Trump is not afraid to speak his mind, turned his attention to food waste in an 18-minute segment on food waste in the US on 19 July. According to the Mail Online, the segment was based on a report released by the Natural Resources Defence Council, which revealed that Americans waste nearly 40% of food produced every year.
The report found that the waste produced costs the US about $165bn (£105bn) and could fill 730 American football stadiums. When reporting that information, Oliver took the chance to take a stab at Trump.
"And if you're thinking, 'But hold on, John, what if I'm an a**hole who couldn't give a s*** about America's hungry families or the long-term viability of life on earth?" Oliver said.
"Well, first let me say, 'Mr Trump! Thank you so much for taking the time to watch this show tonight. It's lovely to have you with us,'" he said. "And secondly, don't worry, there is a selfish financial reason for you to care about this story too!"
This is not the first time Trump has been in the firing line recently. On 20 July, Arizona Senator John McCain called on the 69-year-old candidate to apologise for his comments regarding prisoners of war. During the weekend, Trump said McCain was not a war hero because he had been captured during the Vietnam War by the Viet Cong.
During a campaign stop in Iowa on 18 July, Trump said, "He's not a war hero. He's a war hero because he was captured. I like people that weren't captured."
In an appearance on MSNBC's Morning Joe, McCain responded, "I think he may owe an apology to the families of those who have sacrificed in conflict and those who have undergone the prison experience in serving their country." The Republican senator said POWs serve honourably, the Washington Post noted.
"Somehow to denigrate that in any way, their service, I think is offensive to most of our veterans," he said.
Trump, who is enjoying high polling numbers in the GOP field, has refused to apologise to McCain for his comments.