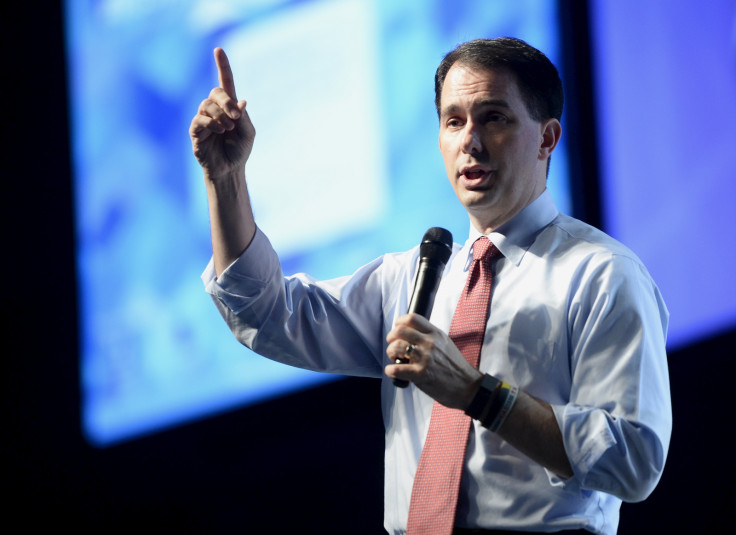 Wisconsin Governor Scott Walker announced on 13 July that he is running for the Republican nomination in the upcoming presidential election. Walker joins a very crowded GOP field, becoming the fifteenth Republican presidential candidate to announce his campaign.
"America needs new, fresh leadership with big, bold ideas from outside of Washington to actually get things done. Wisconsin, we didn't nibble around the edges. We enacted big, bold reforms, took power out of the hands from the big government special interests and gave it to the hardworking tax payers.
"Those lives are better for it...I'm running for president to fight and win for the American people," he announced in a campaign video released early on 13 July.
Walker has built a reputation for working against public employee unions, according to the New York Times. After taking office in 2011, he proposed a bill to repeal collective bargaining for many government employees. Legislation later passed, which led to calls for his recall.
Labour union federation AFL-CLO President Richard Trumka released a succinct and terse statement following Walker's announcement. "Scott Walker is a national disgrace."
Prior to announcing his presidential bid, Walker gave a number of strong speeches and enjoyed high polling numbers in several key states. However, he quickly lost his momentum as rivals Donald Trump, Ted Cruz, Rick Perry and Ben Carson have gained popularity.
According to the Times, the 47-year-old's fund-raising has also hit a snag. The newly announced candidate will focus on campaigning in Iowa, a state he considers a must-win. Walker hopes to attract conservative voters with his opposition to same-sex marriage and restrictions on abortion.
"Walker had a great winter but maybe got a little cocky, a little ahead of himself, and now he really has to take the time to work Iowa and build up the resources to compete harder in the early primary states," veteran Republican consultant Ed Rollins told the Times.
While he has solidified his stances on several national issues, Walker has taken time out of his campaigning to meet with experts, heads of state and military officials to discuss national issues and foreign policy, the Times reported. However, that time away has cost him valuable time in New Hampshire and South Carolina.
The Sioux City Journal reported that Walker is leading among Republicans in Iowa in a recent KBUR-AM and Monmouth College Midwest Matters poll. Walker scored 18%, putting him ahead of former Florida Governor Jeb Bush (12%); Kentucky Senator Rand Paul and former Arkansas Governor Mike Huckabee (10%); Florida Senator Marco Rubio (9%); Texas Senator Ted Cruz (8%); and Donald Trump (7%).
The remaining Republican presidential candidates all scored lower than 5%.