The Koch brothers have signalled which Republican presidential candidates they plan to back during the primaries in an exclusive interview with USA Today.
Charles and David Koch identified Wisconsin Governor Scott Walker, former Florida Governor Jeb Bush, Texas Senator Ted Cruz, Florida Senator Marco Rubio and Kentucky Senator Rand Paul as the candidates with "a good chance of getting elected".
Cruz, Rubio and Paul have already announced their candidacies, while Walker and Bush are expected to announce their bids soon.
"Those are the ones we have talked to the most and who seem to be the possible leaders," Charles Koch told USA Today.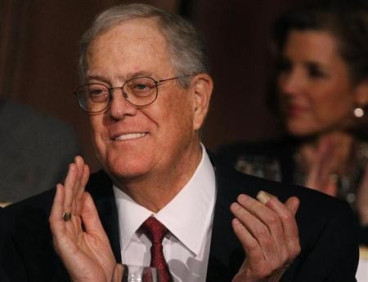 Koch added that they are not currently supporting any contenders, but will likely provide financial help to several candidates. "We're telling them that if they want our support, one way to get it is articulating a good message to help Americans get a better understanding and a better appreciation of how certain policies... will benefit them and will benefit all America."
According to USA Today, the Kochs will allot about $300m (£200m) to both federal and state elections in 2016. The brothers' multibillion-dollar Koch Industries have a $900m, two-year budget devoted solely to politics, Charles Koch explained.
Koch reiterated that a candidate with a positive message would most likely receive their financial support, but there were no guarantees Koch Industries would back only one candidate before the 2016 Presidential election.
Charles's comments come just a day after brother David praised Walker during a speech in New York, USA Today reported. Despite the speculation that the brothers had already chosen their favourite candidate, Charles said they have yet to raise the $900m budget.
A 20 April CNN/ORC poll revealed Bush leads with 17% among official and likely GOP candidates. Walker followed with 12%, while Rubio and Paul tied with 11%. Fellow official candidate and possible Koch-backed candidate Ted Cruz, saw an increase in support from 4% in March to 7% in April.