Donald Trump and Hillary Clinton's campaigns come to an end on 8 November. Getty Images photojournalists Justin Sullivan and Joe Raedle have followed the two candidates across the US throughout their lengthy battles to win over the public and become the next President of the United States. In this exclusive IBTimes UK gallery, the photographers choose their favourite moments from the campaigns and discuss their significance.
Justin Sullivan is an award-winning photojournalist based in San Francisco who has been shooting for Getty Images for nearly 15 years. He covers everything from wildfires to environmental issues, and is well-known for his work covering US politics, particularly the presidential campaigns.
He says: "My coverage of Hillary Clinton began when she announced her candidacy in Iowa back in April 2015 and I have been on the trail with her nearly full time since January of this year. The circus-like roadshow has taken me all over the country by way of planes, trains and automobiles. Flying over 100,000 miles on commercial and charter flights and over 100 nights in hotels has been both exhausting and exciting. The daily grind of a campaign is at times frustrating, always challenging, but more often than not incredibly rewarding."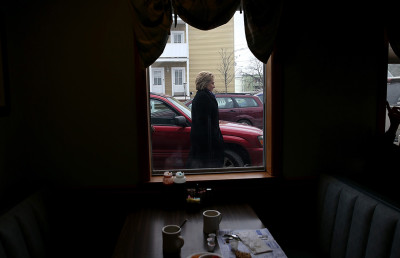 Joe Raedle fell in love with photojournalism 25 years ago as a student at the Maine Photographic Workshop in Rockport. Based in Miami, Joe was hired as a staff photographer at Fort Lauderdale's Sun-Sentinel in 1987 and his 11-year tenure there took him across the globe to cover turbulent events that stretched from Haiti to the Middle East. He joined Getty Images as a staff photographer in 2000, and has been based in Texas, Washington DC, and now again in Miami. His assignments have been rich and varied, from documenting cultural festivals to the wars in Iraq and Afghanistan, presidential politics, and climate change.
He says: "I've been covering the campaign for President of the United States since a year ago when the primaries began. With Donald Trump as the Republican nominee, it has been quite a story to cover."