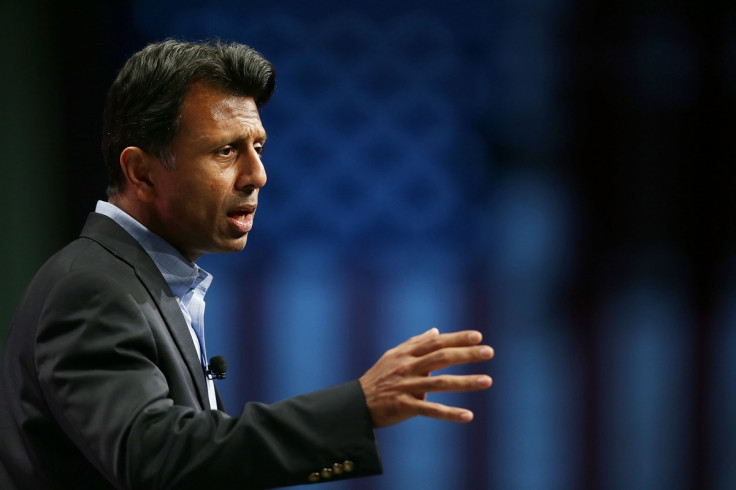 Louisiana Governor Bobby Jindal dropped out of the race for the Republican nomination for the 2016 presidential election on 17 November saying it "is not my time." Jindal, one of more than 15 GOP contenders, struggled to gain in the polls and only nabbed 1% support among Republican primary voters in the 9 November poll by McClatchy/Marist.
"Going forward, I believe we have to be the party of growth and we can never stop being the party that believes in opportunity," Jindal said in an announcement on Fox News. "We cannot settle for The Left's view of envy and division. We have to be the party that says everyone in this country —no matter the circumstances of their birth or who their parents are — can succeed in America."
According to Politico, Jindal not only failed to poll well, he also did not have the economic resources to bankroll his campaign. Heading into October, Jindal had just $261,000 in the bank, with his advisors acknowledging that his financial troubles influenced his decision to drop out.
Jindal's poor polling numbers forced him to participate in the less-viewed undercard debates, which in turn did not help attract voters or funds. The 44-year-old has also seen declining approval ratings in his home state of Louisiana, as he attempts to deal with state budget issues, Politico noted. A recent University of New Orleans survey found that the former congressman only garnered a 20% approval rating at home.
In his thank you message on Facebook, Jindal said: "Freedom is under assault from both outside our borders and from within. We must act now, we do not have a moment to spare." He said he plans to go back to work at the think tank he started where he will be "outlining a blueprint for making this the American century."
The governor, the third Republican to drop out of the race, gave little warning that he was considering abandoning a bid for the White House. Politico reported that he informed his top advisers of his decision on 16 November after reportedly "thinking about it for a few weeks," Curt Anderson, a top Jindal strategist, said.
"It takes money to win elections, so that's one of a number of factors for sure," Anderson told reporters. "Obviously, we did not have the kind of resources that a lot of the other candidates had." Meanwhile, Jindal campaign manager Timmy Teepell voiced his disapproval over the use of polls to determine debate participation.
"Well, look: Obviously it wasn't happening," Jindal told reporters outside the Fox studios, The Washington Post reported. He continued: "I've got nobody to blame but myself. I'm not going to make any excuses or blame anyone else. I'm the one that didn't succeed in winning."