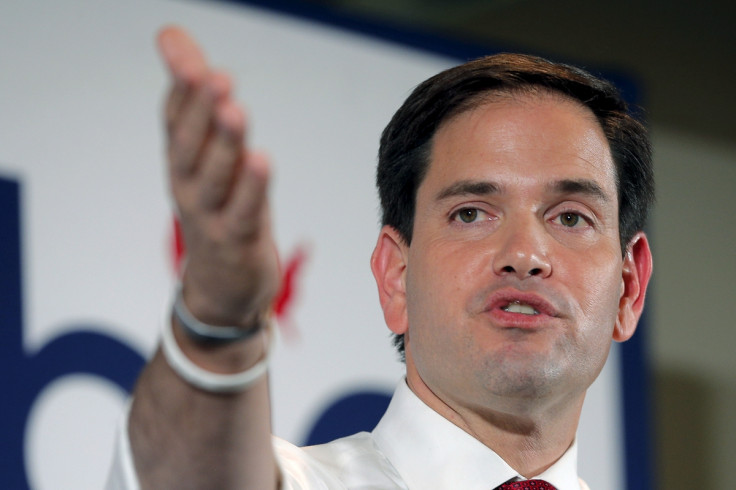 Republican presidential candidate Marco Rubio was quick to pounce on Democratic frontrunner Hillary Clinton for refusing to say that the US is "at war with radical Islam" following the Paris attacks. The Florida senator criticised Clinton for labeling the attackers as radical Islamist, bringing up Nazi Germany to prove his point.
"That would be like saying we weren't at war with Nazis, because we were afraid to offend some Germans who may have been members of the Nazi Party but weren't violent themselves," Rubio said during a 15 November interview on ABC's This Week. The New York Times noted that Republican presidential candidates have continuously called out Democratic candidates for refusing to use the term "radical Islam" in how they would respond to terrorist attacks by the Islamic State (IS).
Republican frontrunner Donald Trump has repeatedly called out Clinton and President Obama for their stances on immigration and the ongoing crisis in Syria. As usual, Trump took to Twitter to voice his opinions, tweeting: "When will President Obama issue the words RADICAL ISLAMIC TERRORISM? He can't say it, and unless he will, the problem will not be solved!"
During the 14 November Democratic debate Clinton said she was cautious of "painting with too broad a brush" while describing Islam and terrorism. "I don't think we're at war with all Muslims," the former secretary of state said. "I think we're at war with jihadists. We are at war with violent extremism. We are at war with people who use their religion for purposes of power and oppression."
Clinton's campaign spokesman Brian Fallon added in an email to the New York Times: "As Hillary Clinton said last night, we are at war with radical jihadist terrorism, not an entire religion. The Republicans are focused on a phrase because they have no real strategy to confront the terrorist threat we face."
According to the Times, Rubio also called for the invocation of Article 5 of the North Atlantic Treaty, which calls an attack on one Nato member as an attack on all. However, he balked at clarifying how many American troops should be placed on the ground. "I think it's premature to say the exact numbers," he said, but he called for an increase in the number of "special operators on the ground."
On 15 November, Rubio took to Twitter to speak out against the US accepting more refugees from Syria. "We won't be able to take more refugees. It's not that we aren't compassionate. But we can't. No way to background check," he tweeted.