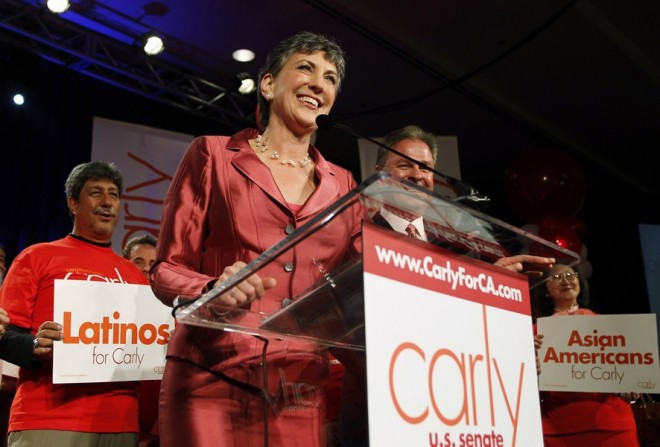 Republicans may have a new contender for the 2016 presidential election. Following Senator Ted Cruz's announcement as the first official candidate, Carly Fiorina said there is a "higher than 90%" chance that she would announce her candidacy in late April or early May.
The former CEO of Hewlett-Packard, who appeared on "Fox News Sunday," was asked why she was not willing to announce her candidacy immediately. Fiorina responded, "As other potential candidates are doing, we need to have the right team in place, that we have the right support, that we have the right financial resources lined up."
The 60-year-old businesswoman turned politician said her business background gives her a "deep understanding how the economy actually works."
When asked what makes her a viable Republican candidate, she said, "I know how the world works and know many of the world leaders on the stage today. Because I understand technology, a transformational tool. Because I understand bureaucracies, how they work and how you need to change them... and because I understand executive decision making."
While Fiorina said she agreed with Democratic Senator Elizabeth Warren about "crony capitalism," she wasted no time in criticizing another potential candidate: Democrat Hillary Clinton.
"Hillary Clinton lacks a track record of accomplishment. She is not candid, which suggests her character is flawed," she said. Fiorina added that the controversy surrounding Clinton and her deleted emails during her time as Secretary of State brings about a "competence issue."
Fiorina said the US needs "a nominee that brings this up during the general election" and that the GOP's previous presidential nominee Mitt Romney failed to make Benghazi enough of an issue during the 2012 presidential election.
The former businesswoman defended her brief tenure as CEO at Hewlett-Packard and called criticisms as "Democratic talking points." The potential presidential candidate worked at the technology giant until 2005, when she was forced out as the company's stock plummeted and thousands were laid off.
When asked if she was running just to be someone's running mate, Fiorina said, "If I run for president, it's because I can win the job and it's because I can do the job."