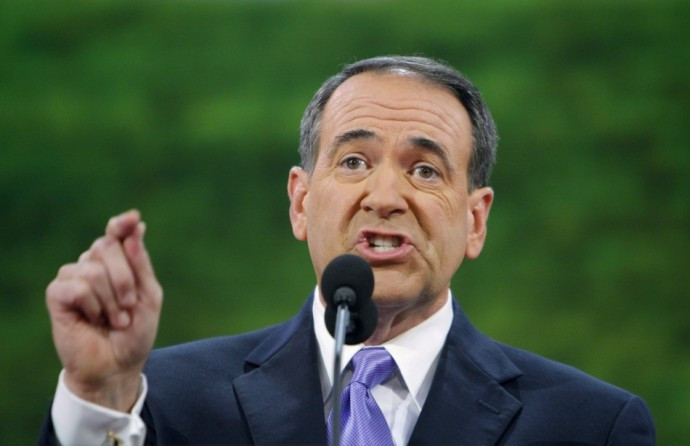 First it was Josh Duggar. Now, Republican presidential candidate Mike Huckabee's campaign is facing a new child molestation scandal. John Perry, who co-authored Huckabee's 2008 memoir, allegedly molested a girl for three years but was not charged.
According to BuzzFeed News, Perry started molesting the girl when she was 11 years old. Although police were alerted to the abuse, they were not able to prosecute Perry because the statute of limitations had expired.
Perry did not deny the molestation allegations outright but told the Daily Mail, "the parties involved were reconciled and restored years ago". He also claimed the abuse investigation had been started by an individual who had a "vendetta" against Perry's former church.
BuzzFeed News reported that Perry had been accused of child molestation in two separate lawsuits. In 2012, police investigated the allegations and concluded that "the allegations of sexual battery were sustained" but that the statute of limitations had passed.
Perry's former wife claimed she "filed for divorce as a result of Mr. Perry's inappropriate marital conduct, to which he admitted to in his Response to Interrogatories numbers 1 and 2," a sworn affidavit submitted stated. BuzzFeed News noted that the "inappropriate marital conduct" appears to be a reference to the allegations.
Another filing submitted by Perry's ex-wife's lawyer also refers to the "admitted sexual abuse" of a minor. Perry again does not admit or deny the abuse, but instead said, "there was never any testimony or other evidence of any kind presented" to the court.
However, Nashville police department spokesperson Don Aaron told BuzzFeed News, "The alleged sexual battery was reported to have occurred when the victim was between the ages of 11 and 14."
Aaron continued: "As a result of the investigation, the allegation of sexual battery were sustained, but it was determined that the statute of limitations had tolled, barring prosecution. The victim was age 18 when she first disclosed the allegations to non-law enforcement and said at the time she did not want the matter reported to the Tennessee Department of Children's Services or the police."
A separate lawsuit brought on by Austin Davis, a former parishioner of Cevenant Presbyterian Church, claimed the church covered up Perry's alleged abuse and attempted to silence Davis. However, Perry's alleged victim said she believed the church acted appropriately. She also told BuzzFeed News that Perry had been excommunicated from the church.
Huckabee not aware of investigation
According to the Daily Mail, Huckabee appears to not have known anything relating to the abuse allegations and subsequent investigation. The revelation of another associate being linked to child molestation claims comes hot on the heels of Huckabee's defence of Duggar, who admitted to molesting five girls.
"No one needs to defend Josh's actions as a teenager," Huckabee said, adding, "but the fact that he confessed his sins to those he harmed, sought help and has gone forward to live a responsible life as an adult is testament to his authenticity and humility."
Huckabee's campaign has yet to comment on Perry's case.