US election 2016: Southern populist Mike Huckabee announces presidential bid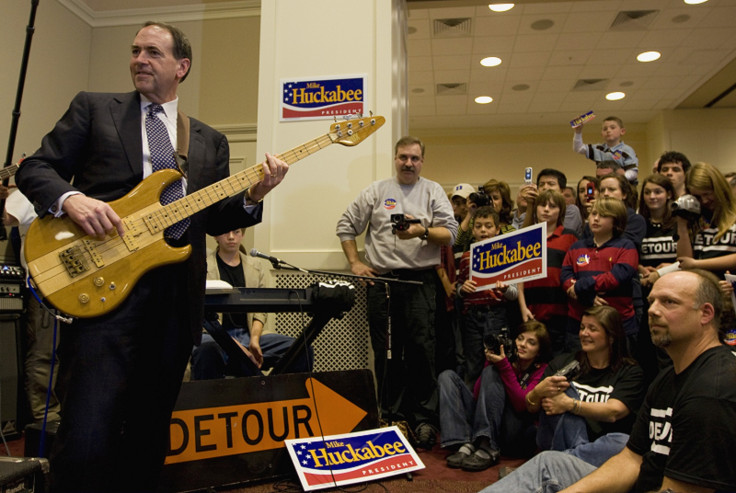 Former Arkansas governor Mike Huckabee has become the sixth Republican to announce his bid to run in the 2016 presidential election. Huckabee, an outspoken Southern populist, made his announcement in his hometown of Hope, Arkansas, on 5 May.
According to Reuters, Huckabee told attendees that if he is elected, he will change government policies to focus on working-class Americans. He also touted his humble roots, taking a not-so-subtle stab at likely Republican candidate Jeb Bush and Democratic candidate Hillary Clinton.
"I don't come from a family dynasty, but a working family," Huckabee said. "I grew up blue-collar, not blue blood."
The message is similar to that of his 2008 run, when the 59-year-old conservative won the Iowa GOP caucuses. Huckabee has repeatedly talked about his "average" background and populist views.
In a video released 1 May, the former governor said, "I'm not a Republican because I grew up rich, I'm a Republican because I didn't want to spend the rest of my life poor, waiting for the government to rescue me."
During his speech on Tuesday, the former Southern Baptist pastor discussed today's economy and placed blame on President Barack Obama for the nation's economic troubles, Reuters reported.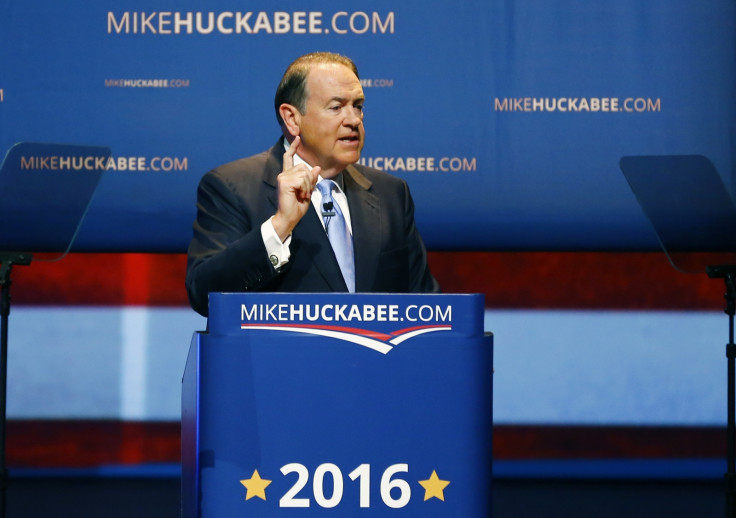 U.S. Republican presidential candidate, and former Arkansas Governor Mike Huckabee, formallly launches his bid for the 2016 Republican presidential nomination during an event in Hope, Arkansas May 5, 2015.
REUTERS/Mike Stone
"Ninety-three million Americans don't have jobs," he said. "And many of them who do have seen their full-time job with benefits they once had become two part-time jobs with no benefits at all." He continued, "We were promised hope, but it was just talk."
According to Reuters, Huckabee also spoke vehemently about his opposition to abortion and gay marriage.
Same troubles as in 2008
Seven years after his last presidential run, Huckabee faces similar roadblocks he did in 2008, NBC News reported. The former governor does not have the support of large Republican donors or elected officials, who are now supporting likely candidates Bush and Scott Walker.
According NBC News, Huckabee's run will be made harder by fellow candidates who are also deeply conservative and strongly religious.
In a 4 May poll by NBC News and the Wall Street Journal, only 5% of GOP primary voters chose Huckabee as their first choice, with another 10% choosing him as their second choice. Meanwhile, Bush and Florida Senator Marco Rubio topped the charts with 37% and 41% combined choices, respectively.
The former Fox News TV host does, however, count on the endorsement of one of his most fierce supporters, Chuck Norris. According to the New York Times, the former film and TV star said: "I still believe Mike Huckabee is the most qualified. He has the moral clarity and experience to lead out great country forward."
Huckabee enjoys fishing and in 1997 was the American Sportfishing Association's Man of the Year. In 2005, a lake in Hope, Ark., was renamed the Mike and Janet Huckabee Lake.
He is also a keen bass guitar player in the classic rock band Capitol Offense. The group has performed at the Arkansas State Fair and has opened for REO Speedwagon, Grand Funk Railroad, and the Charlie Daniels Band.
© Copyright IBTimes 2023. All rights reserved.