US election 2016: Mike Huckabee becomes the latest Republican to drop out of the Iowa Straw Poll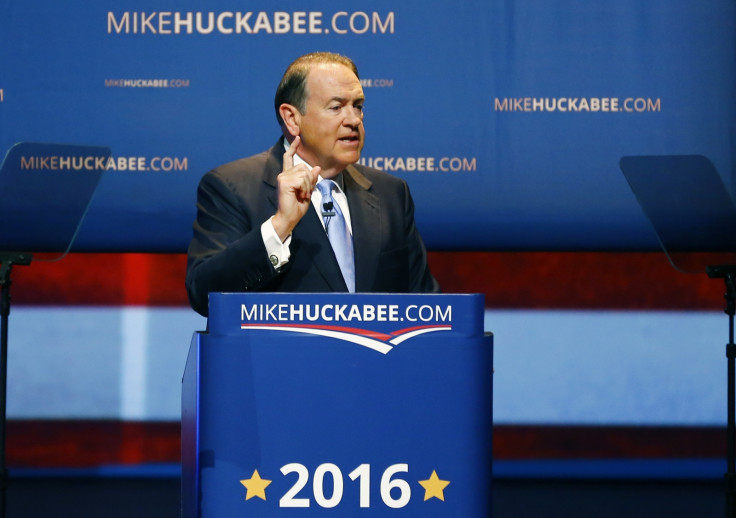 Republican presidential candidate and former Arkansas governor Mike Huckabee is the latest candidate to opt out of August's Iowa Straw Poll. In op-ed for The Des Moines Register, Huckabee said his focus was on the Iowa caucuses, not the straw poll.
"I've said it before and I'll say it again: I love Iowa. My goal is to run a well-funded, well-organised, and well-executed campaign to do extremely well in the Iowa caucuses in 2016," Huckabee wrote.
The self-proclaimed Southern populist last appeared in the straw poll in 2007, coming in second place. However, success at the Republican campaign event does not always translate in Iowa caucus wins.
"Past winners in recent straw polls didn't result in caucus victories, and we want to dedicate our resources and our focus our volunteers in Iowa toward the caucuses, which matter greatly in determining our next president," Huckabee said.
"And if you question how important the Iowa caucuses really are, just ask our last Republican president or the current Democratic one, who both won the Iowa caucuses on their way to the White House."
Not great news for the state of Iowa
Huckabee's decision to skip the event is the latest in a string of bad news for the 8 August event. Likely presidential candidate and former Florida governor Jeb Bush announced on 13 May that he will not be attending the straw poll, but will instead attend a gathering in Atlanta.
The Iowa Straw Poll has come under fire for being too costly for candidates. Iowa chairman Jeff Kaufmann announced on 7 May that Iowa Republicans were making several changes to the carnival-like event. Candidates will no longer have to pay for a spot on the grounds or have to provide food for attendees.
Several of the declared candidates have refused to say whether they are attending the straw poll. Marco Rubio spokesman Alex Conant told The Associated Press that the Florida senator will not be spending money on straw polls. However, retired neurosurgeon Ben Carson does plan to participate.
© Copyright IBTimes 2023. All rights reserved.