Just almost a day after Donald Trump said he would "love" to debate Vermont Senator Bernie Sanders, the presumptive Republican nominee has backed out of the idea saying it would be "inappropriate" to debate "the second place finisher." He said he would rather debate the winner.
US presidential hopeful Trump was recently quoted as telling reporters in Bismarck, North Dakota, after clinching the GOP presidential nomination that he would be happy to participate in the debate with Sanders and raise $10m or $15m ($14.6m - $22m) for charity. However, the Sanders campaign had cast doubts over Trump's decision and feared he might back out.
In a statement issued on Friday by the Trump campaign, the billionaire-turned-politician said: "Based on the fact that the Democratic nominating process is totally rigged and Crooked Hillary Clinton and Deborah Wasserman Schultz will not allow Bernie Sanders to win, and now that I am the presumptive Republican nominee, it seems inappropriate that I would debate the second place finisher."
Trump, who had admitted earlier that a debate between him and Sanders would get high ratings for the television media, further said in the statement: "Likewise, the networks want to make a killing on these events and are not proving to be too generous to charitable causes, in this case, women's health issues. Therefore, as much as I want to debate Bernie Sanders — and it would be an easy payday — I will wait to debate the first place finisher in the Democratic Party, probably Crooked Hillary Clinton, or whoever it may be."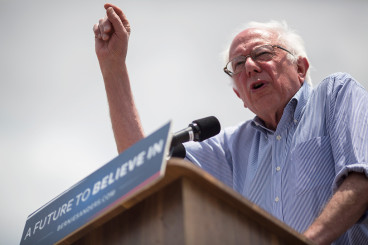 Sanders, however, is hopeful that Trump would change his mind and again agree to debate him. "I hope that he changes his mind again. Mr Trump is known to change his mind many times in a day," Sanders told reporters in Los Angeles on Friday.
"Trump is a bully, he's a big tough guy. Well, I say to Mr Trump, what are you afraid of?" CNN quoted him saying. Sanders is currently trailing behind Clinton and is banking on the California primary on 7 June.