Within days of his election, a senior adviser to Donald Trump promised Israel that the president-elect would be a friend the likes of which Israel "had never seen before". David Friedman, Trump's adviser on Israeli affairs, told Israeli media that the hostility that defined Barack Obama's relations with the Jewish state was a thing of the past.
As well as promising that Israel would continue to receive billions of dollars in military funding per year, Friedman said that Trump would make good on his campaign promise to relocate the US embassy from Tel Aviv to Jerusalem, breaking six decades of diplomatic protocol and likely inflaming tensions with the Palestinians, who consider the city their capital.
The promise is nothing new. Back in 1995, the US Congress enacted a law that called for the US to relocate its embassy from Tel Aviv to Jerusalem but the move can be postponed by the sitting president for national security reasons. Every president from Bill Clinton onwards has used the waiver to prevent the move, including George W Bush, the hawkish and pro-Israel former Republican president who served between 2000 and 2008.
Both Palestinians and Israelis consider Jerusalem their capital. Until 1967 the city – holy to Jews, Muslims and Christians – was divided between the western Jewish half and the eastern side, including all the major religious shrines, controlled by Jordan.
Since capturing it from Jordan during the Six Day War in 1967. Jerusalem's disputed status has meant there has not been an embassy in the city since 2006, when both Costa Rica and El Salvador became the last two nations to relocate to Tel Aviv, Israel's commercial hub and largest city.
Israel's seat of government, however, has been in Jerusalem since 1948 but without international recognition its capital status remains only de facto, much to the fury of Israelis. If the USA was to set the precedent of installing its embassy in the city it would be an historic fillip to the recognition of Jewish sovereignty.
In 2000, Bill Clinton said during an interview on Israeli television that he was considering moving the US embassy to Jerusalem. His comments provoked a furious response from the leader of Hezbollah, Hassan Nasrallah, who said that Arabs would "turn your embassy to rubble and send your diplomats home in coffins".
In December 2006 George Bush said that his administration "remained committed to beginning the process of removing our embassy to Jerusalem" but mere months later rowed back on the move, issuing a memorandum citing security concerns. When Bush's term expired in 2008, he was yet to go through with the move: issuing word-for-word the same memorandum that he had in 2006.
If he does it, Trump will send a truly bad message to not simply American allies in the region more widely afield, but the international community in general
In his eight years in power, Barack Obama made no effort to relocate the US embassy, likely over fears that it would disrupt his and Secretary of State John Kerry's efforts to secure peace between Israel and the Palestinians. Hillary Clinton, conversely, has been a supporter of the move since 1999 and as Secretary of State raised eyebrows when she repeatedly referred to Jerusalem as "Israel's capital" during a visit to the country.
But Trump, whose anti-Muslim outbursts and open coveting of Israeli Prime Minister Benjamin Netanyahu has made him a popular figure on the Israeli right, could be the man to finally make the move.
"I think it is likely that he will at some point move forward with it. Of all the things that he has pledged to do it is the lowest hanging fruit [but] it risks creating a precedent that will be followed by other states," said Hugh Lovatt, at the European Council on Foreign Relations.
There is also the fear that relocating the embassy will come alongside other policy shifts, such as recognising Israeli settlements in the West Bank and cracking down on the Boycott, Divestment and Sanctions (BDS) movement, which has been gathering support in Europe over the past few years.
"It is the string that you start to pull and it leads to other things: potentially recognising occupied territories as being part of Israel. [...] There is explicit mention of countering actions that target Israel – which is shorthand for trying to dissuade the EU from continuing its measures targeting Israeli settlements," Lovatt said.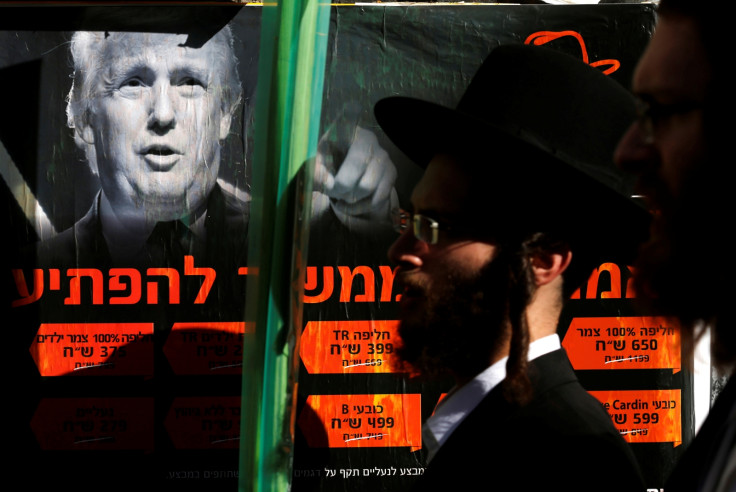 It could also signify a formal shift away from the two-state solution for the Israel-Palestine conflict, which has been the official position of US administrations for decades but has faltered since 2014, when peace negotiations between Israeli and Palestinian politicians broke down. They have never been restarted.
Moreover, Trump's support for Israel even extends to a threat to tear-up the hard-fought nuclear deal with Iran; hated by Prime Minister Benjamin Netanyahu who had pressed for a military solution to Tehran's ambitions to become a nuclear power and seen as an existential threat by his government.
The mooted Jerusalem move would outrage Israel's Arab neighbours, as well as the entire Muslim world, including key American allies such as Saudi Arabia, and particularly Jordan which still administers the Muslim holy sites at al-Haram as-Sharif, known as the Temple Mount, to Jews. As a result, the shrine is one of the world's most dangerous flashpoints.
Right wing Zionists have increasingly pressed for the rights to pray on the now Muslim sanctuary but believed to be the site of the First and Second Temples of the biblical era, destroyed in 70AD, and has led to accusation that Israel was trying to alter the highly sensitive status quo.
"Under international law and the political consensus of pretty much the entire international community, [east] Jerusalem is occupied territory, forcibly and militarily taken by Israel in 1967. Despite a lot of feelings to the contrary in repeated congresses, American administrations have resisted recognising Israel's annexation," said Dr H. A. Hellyer, senior non-resident fellow, Atlantic Council and the Royal United Services Institute .
"If Trump does it – and he is erratic enough that we shouldn't discount it as a possibility – he will send a truly bad message to not simply American allies in the region more widely afield, but the international community in general."