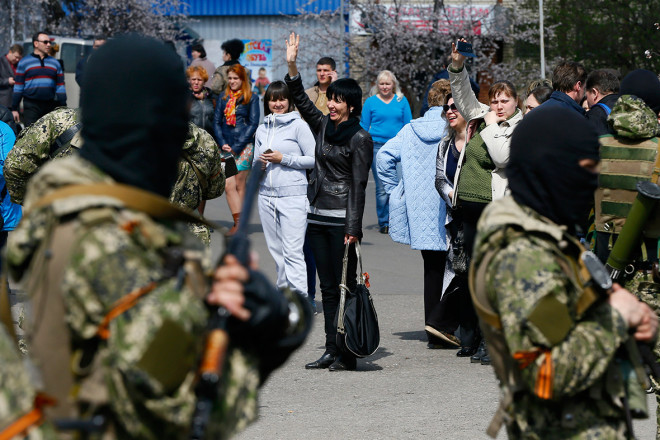 Russia, US, EU and Ukraine begin talks at a high-level meet in Geneva to resolve the crisis situation in eastern Ukraine.
The United States and EU will negotiate with Russia to take back its support for the armed rebellion in eastern Ukraine, and will play up the threat of sanctions against Moscow.
"The idea here is that they would stop aiding and abetting and supporting these separatists and that they would pull their troops back from the border," a senior US State Department official told the NY Times.
Ukraine and Russia are expected to discuss ways to restore normalcy in the eastern part of the country racked by economic and political instability.
According to US officials, Ukraine will suggest the decentralising of political control over the country, giving more autonomy to the Russian-speaking population. However, Russia has called for an even greater role for regional leaders in national politics.
The continuing tensions in eastern Ukraine have prompted NATO allies to consider sanctions once again. But, the US and EU have not yet specified the economic penalties that would be imposed on Russia if the talks fail.
The Western countries will also urge Russia to pull back its estimated 40,000 troops near Ukraine's border, the BBC reported.
Both sides, however, are firm on their position, and the talks are not expected to achieve consensus on key issues, experts say.
Pro-Russian Protesters Supported by Local People
The Ukranian government has called the latest strikes on armed gunmen in the eastern part of the country an "anti-terrorist" operation, but the situation on the ground seems to suggest that the pro-Russian activists are being supported by local people.
In many districts the natives publicly opposed the Ukranian troops, while one Ukranian officer was reported as saying that that he did not "come to fight" and will never shoot his "own people."
In the eastern city of Kramatorsk, six military vehicles were disarmed by pro-Russian gunmen, and the troops sent away on buses, according to BBC.
Meanwhile, hundreds of residents near the eastern European city of Sloviansk got soldiers in Ukranian military vehicles to surrender their arms before letting them go.
The protesters are seeking a referendum to win greater autonomy for the Russian-speaking eastern region.
According to reports, the pro-Russian forces earlier clashed with an army subdivision in Mariupol, about 135 miles south of Kramatorsk, in which three protestors died, another 13 were injured and about 63 of them were detained.
Moscow has held strongly to its stance that the situation in eastern Ukraine was being distorted to "justify charges against Russia."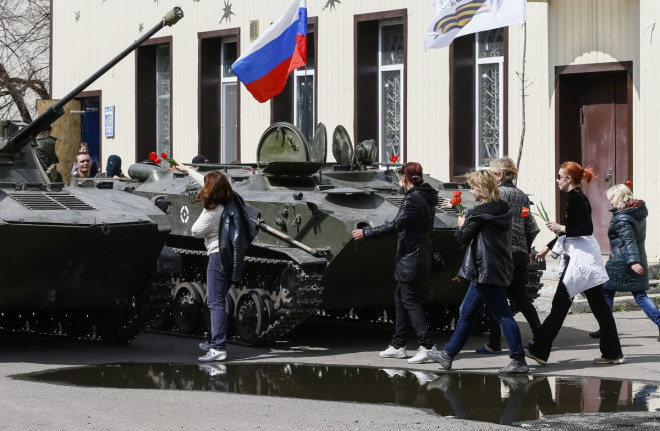 "The persistent unwillingness or inability to see reality as it is in fact, and in a striving to impose on the rest of the world a distorted perception of what is happening in southeast Ukraine," Russian foreign ministry was quoted as saying by BBC.