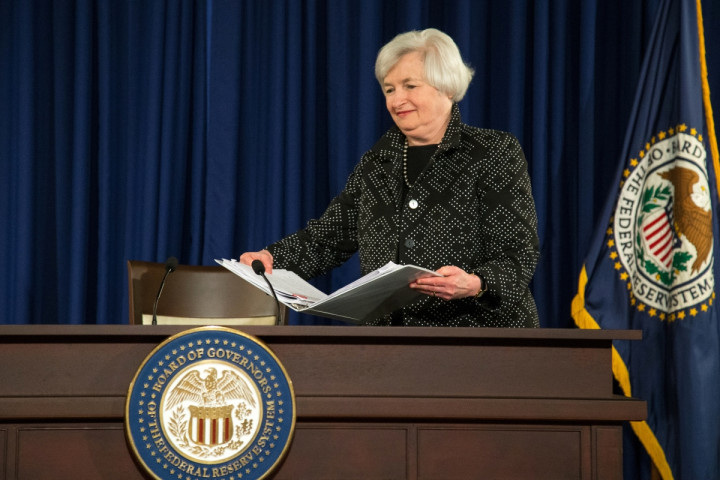 The US Federal Reserve has cut the country's yearly economic growth outlook, while going ahead with the tapering of its massive bond buyback programme.
The Fed now expects the US economy to grow between 2.1% and 2.3% for 2014, compared with its March growth prediction between 2.8% and 3%. The central bank cited severe winter weather for the cut.
Nevertheless, the bank kept its forecasts for 2015 and 2016 unchanged, expressing confidence that the recovery was on track.
As widely expected by economists, the central bank has cut its stimulus programme for the fifth time by $10bn (£5.9bn, €7.4bn) per month to $35bn. The Fed is expected to end the programme, intended to keep long-term interest rates low and encourage bank lending, by the autumn.
"Economic activity is rebounding in the current quarter and will continue to expand at a moderate pace," Fed Chair Janet Yellen told a news conference.
In addition, the central bank hinted at a slightly faster pace of interest rate increases starting in 2015, resulting in a rally in US shares with the S&P 500 index closing at a record level. The index closed above its previous record high of 1,951.27, reached on 9 June.
Yellen also noted that inflation would remain at or below the target of 2% until the end of 2016. The unemployment rate, though lower, remains elevated.
"The committee will closely monitor incoming information on economic and financial developments in coming months and will continue its purchases of Treasury and agency mortgage-backed securities, and employ its other policy tools as appropriate, until the outlook for the labour market has improved substantially in a context of price stability," the Federal Open Market Committee (FOMC) said in a statement.
The Fed had announced its massive $85bn per month bond buyback programme in the aftermath of the 2008 financial crisis, in order to boost economic activity. It has started cutting its stimulus measures after it found a gradual improvement in the economy in terms of inflation and unemployment.