US fighter jets could be accompanied by drone wingmen as soon as 2018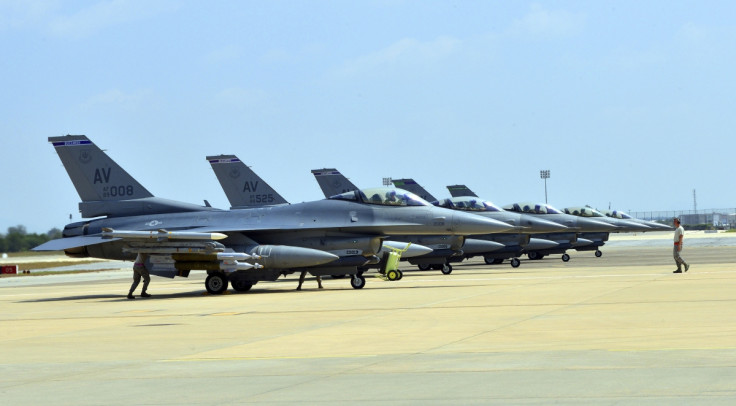 Current-generation US fighter jets could take to the skies alongside unmanned armed drones for within the next two years. The "Loyal Wingman" initiative could see fifth-generation stealth fighters matched with older craft to reduce the risk faced by the human pilot.
The technology would allow these drones to fly ahead of the fighter in hostile environments to identify and attack targets without leaving human pilots open to potentially dangerous situations. According to the Medium blog War is Boring, the US Air Force (USAF) is moving ahead with new computer algorithms which would allow fighter pilots to take control of the drones from their own cockpit. The drone could fire at targets chosen by the pilot.
Air Force Researcher Laboratories (AFRL) launched the initiative in mid-2015 with a formal request for information (RFI) to the aerospace sector. "Autonomy technologies can enhance future operations and capabilities in contested and denied environments," the RFI said.
"Technologies are also required to seamlessly integrate the pilot and his/her aircraft with the autonomous unmanned aircraft to allow them to operate as a team for combat effectiveness."
The formal programme is set to be launched in 2018 and demonstrations will run until 2022 when the paired jets will carry out a strike mission in a hostile and well-defended environment as proof of the technology's capability. The theory behind giving the unmanned aircraft a large degree of autonomy is to avoid signal jamming and other complications from occurring.
Last month Deputy Defence Secretary Robert Work said the use of autonomous technology and platforms is an inevitability.
"It is going to happen," Work told a forum hosted by the Washington Post in the US capital. "I would expect to see unmanned wingmen in the air first, I would expect to see unmanned systems undersea all over the place, I would expect to see unmanned systems on the surface of the sea."
He added that the creation of unmanned vehicles would take longer to create given the challenges faced by the military, such as navigating off-road on rough terrain. The US is keen to develop driverless vehicles to protect its soldiers from roadside bombs which have killed hundreds of military personnel in Iraq and Afghanistan.
© Copyright IBTimes 2023. All rights reserved.