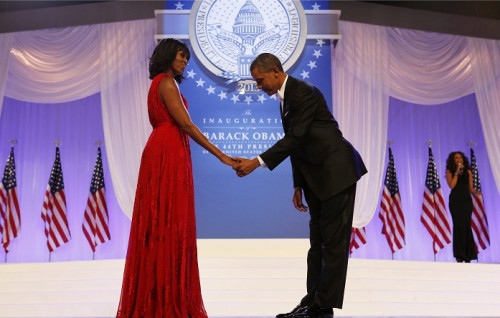 First Lady Michelle Obama celebrated her 50th birthday with a star-studded soiree at the White House on Saturday, with several high-profile personalities in attendance.
Singer Smokey Robinson, actor Samuel L Jackson, NBA legend Magic Johnson and Gladys Knight were among the guests at the party, which ended at 2am – two hours later than scheduled.
Several guests confirmed that singer Beyonce also attended and performed several songs.
The event reportedly took up the entire state floor of the White House, including the gilded East Room, the formal parlours and the ornate state dining room.
Musician Herbie Hancock said the highlight of the night was President Obama's heartfelt tribute to his wife.
"It was really beautiful and really touching," he told CNN. "He said something – his voice almost cracked like he was crying. It was just beautiful - a husband speaking about his wife."
The Obamas had caused a minor stir last week when they revealed that only drinks and light snacks would be served at the event, which was referred to as "Snacks & Sips & Dancing & Dessert".
However, the sparse culinary fare did not appear to bother attendees, according to CNN.
Mrs Obama turned 50 on Friday and began her celebrations with an extended vacation with friends on the Hawaiian island of Maui, and a party thrown in her honour at Oprah Winfrey's mansion.
The First Lady also recently publicly showed off her new AARP membership card, which entitles her to discounts courtesy of the US senior citizens' advocacy group.
According to East Wing aides, in the coming year Mrs Obama plans to embark on a nationwide campaign to promote educational achievement among young people and will meet teachers, school counsellors and mentors to discuss how to encourage pupils to apply to university.