In the latest sign of ocean woes a US regional commission is halting commercial sardine fishing off America's West Coast as the number of fish in the Pacific Ocean plummet.
The disappearance of sardines and other fish is believed linked to a record number of strandings of starving sea lion pups this season along the southern coast of California.
The Pacific Fishery Management Council voted to stop commercial fishing from Mexico to the Canadian border beginning July 1, when the 2015 season begins, after the latest federal statistics revealed a 91 percent drop from 2007 in sardine numbers along the West Coast. The council is also considering immediately halting fishing.
"We know boats will be tied up, but the goal here is to return this to a productive fishery," said council member David Crabbe, referring the usually rich waters.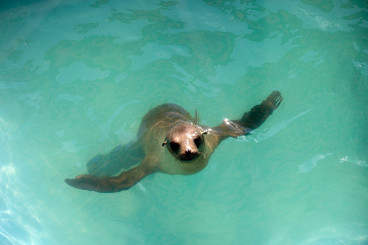 Sardines are a food source for sea lions, along with herring, hake, squid and anchovy. Scientists from the National Oceanic Atmospheric Association believe a number of fish populations the animals rely on have been significantly disrupted because of an increase in water temperature off the coast from Mexico to Alaska. Sea lion mothers — forced to be at sea longer seeking vanishing fish populations — are leaving their nursing pups behind to starve. A record number of 2,225 pups were rescued along the West Coast in the first three months of this year, with more on the way.
Some conservationists believe the current problem is also due to serious overfishing. "You've got sea lions starving on the beach, pelicans abandoning their nests because they can't find food," Ben Enticknap, a senior scientist with international conservation organization Oceana, told Oregon Live. "Fishing should have stopped before we began seeing these severe ecological impacts."
The West Coast sardine fleets have earned up to $20 million in sales annually. Much of the catch, landed from Mexico to British Columbia, is exported to Asia and Europe, where some is canned, and the rest goes for bait.
The Pacific Fishery Management Council, made up of members from Oregon, Idaho, Washington and California, is one of eight regional commissions established by national law in 1976 that manages fishing in federal waters.