US Congress will give $500m (£294m) in aid, training and weapons to Syrian rebels in their fight against Isis (now known as the Islamic State) and Bashar al-Assad regime forces, which have killed tens of thousands of civilians.
President Barack Obama sought a nod from Congress for the money when he pitched for approval in June, and the Senate rallied in support of the move this week to "train and equip appropriately vetted elements of the moderate Syrian armed opposition."
The money will also help fund fighting against Islamist insurgents engaged in a fierce battle in neighbouring Iraq, the White House said in June.
"These funds would help defend the Syrian people, stabilise areas under oppression control, facilitate the provision of essential services, counter terrorist threats, and promote conditions for a negotiated settlement", said National Security Council spokesperson Caitlin Hayden.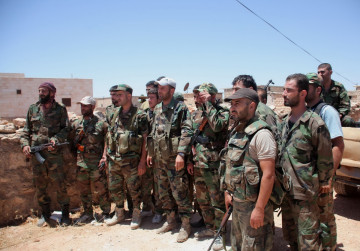 It is understood that General Lloyd Austin, top commander of US forces in the Middle East, will oversee the military campaign in Syria against IS.
The news comes amid increasing controversy over the limits of the US military involvement in the campaign. Previously, Obama had long been hesitant to supply weapons to the poorly-armed Syrian opposition forces fearing that they would fall into the hands of extremists.
Tensions surrounding US involvement in the Middle East have grown in recent weeks following videos released by the jihadist group who have begun executing American and British hostages as a result of US involvement in Iraq.
Obama met with military officials at US Central Command in Tampa, Florida on Wednesday to discuss the fight against IS and the possibility of deploying US ground forces if airstrikes against the organisation failed to achieve their goal.
Joint Chiefs of Staff General Martin Dempsey told the Senate Armed Services Committee that it is possible that US troops stationed in Iraq to "advise and assist the Iraqi military" could be deployed to fight.
Dempsey said: "To be clear, if we reach the point where I believe our advisers should accompany Iraqi troops on attacks against specific Isis targets, I will recommend that to the president."
He also said that training between 5,000 and 10,000 Syrian moderate rebels may not be enough to counter Isis forces.