British photojournalist John Cantlie, who appeared on an Isis (known as Islamic State) video pledging to expose the truth behind IS, was kidnapped with the late US journalist James Foley in northern Syria in November 2012.
Details about his abduction by jihadists are shrouded in mystery due to a media blackout that lasted nearly two years.
Foley, who was beheaded in August in the first of IS's videos, went missing on Thanksgiving Day that year.
The two allegedly attempted to leave the country but were stopped at an internet cafe in a town near the Turkish border and seized as they walked out, according to a Guardian report.
The family has avoided talking to the public on advice of the UK Foreign Office, which urged the media to show restraint following the release of a video showing the killing of Scottish aid worker David Haines. It said two other British citizens, Alan Henning and John Cantlie, were being held but increasing the coverage would "increase the threat to their lives".
When Henning was shown in the Haines murder video, the Foreign Office again recommended avoiding any mention of Cantlie.
It was the second time the British journalist had been kidnapped in Syria. He was held hostage with Dutchman Jeroen Oerlemans and their guide in July 2012 by Islamist militants in northern Syria and rescued by a Free Syrian Army group a week later.
In the video, 43-year-old Cantlie from Surrey, who has worked for The Sunday Times, The Sunday Telegraph and the BBC, pledges to expose the "truth behind the Islamic State".
"Over the next few programmes, I am going to show you the truth as the Western media tries to drag the public back to the abyss of another war with the Islamic State," he says.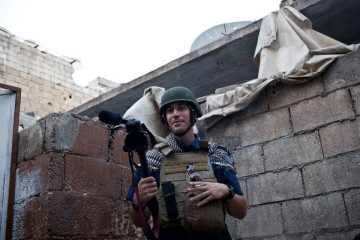 According to a post on Oerlemans' Facebook page, the Dutch journalist and Foley were held captive together. "James Foley, an American journalist who helped a lot when I was kidnapped, has been beheaded by IS yesterday," he wrote on 20 August, in the wake of the Isis video release.
Cantlie and Oerlemans were shot and wounded during an escape attempt gone wrong.
After the incident, the pair were taken back to the camp where a fighter who claimed to be an NHS doctor treated their wounds.
The doctor was later identified as 27-year-old Shajul Islam, from east London, and he was arrested while flying into Heathrow Airport with his wife and baby in October 2012. Islam was charged with false imprisonment and accused of being a jihadist with international connections but his case was dropped in November 2013 because both witnesses were unable to call.
The brother of Shajul Islam, Razul, is reportedly one of the suspects said to be "Jihadi John" the man who executed Foley and Steven Sotloff.
Investigators questioned Shajul about his brother after Foley's murder in August.