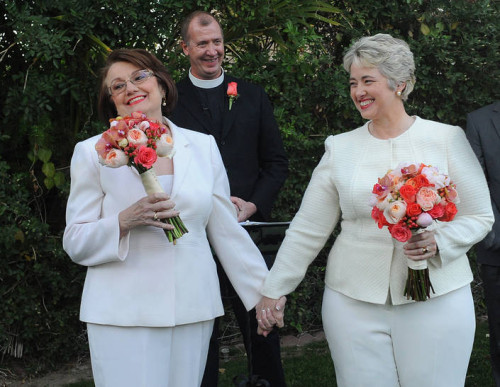 Annise Parker, mayor of Houston in Texas has married her long-time partner, Kathy Hubbard, at a private ceremony in California, setting an example for Texas where same-sex marriage is not recognised.
The couple chose California as their wedding venue since the US state legally recognises same-sex marriages.
"I am privileged to now be the wife of the woman I have loved for more than 2 decades. I couldn't be happier. We said our vows today," the 57-year-old Parker wrote on Twitter after her sunset ceremony wedding held at a private home in Palm Springs.
The wedding was attended by close friends and family, including Parker's mother and Hubbard's sister. Parker's office has issued a statement after the wedding addressing Hubbard as First Lady Kathy Hubbard.
According to the statement, Parker and Hubbard selected 16 January for their wedding because the day marked the 23rd anniversary of the start of their relationship.
"Kathy has been by my side for more than two decades, helping to raise a family, nurture my political career and all of the other ups and down and life events that come with a committed relationship. She is the love of my life and I can't wait to spend the rest of my life married to her," an emotional mayor said.
"This is a very happy day for us. We have had to wait a very long time to formalize our commitment to each other," she added.
Annise Parker has been elected Houston Mayor thrice since 2010. Since November last year, Houston has been offering benefits to same-sex couples who are married in a state where same-sex marriage is legal.
However, Parker and Hubbard will not avail any such benefits.
"Hubbard has other insurance options available to her and will, therefore, not participate in the new policy granting city health insurance benefits to the spouses of legally-married city employees," the mayor's office said.