President Obama's executive action on immigration reform continues to face an uncertain future. Two US appeals court judges appeared reluctant to lift the ban placed by a Texas federal judge on the executive order.
According to Reuters, conservative judges Jennifer Elrod and Jerry Smith of the 5th US Circuit Court of Appeals were openly sceptical of lifting the ban issued by US District Judge Andrew Hanen.
Elrod, who was appointed by former President George W Bush, questioned the administration's claim that the executive order did not grant benefits to the undocumented immigrants it covered, Reuters reported. Meanwhile, Ronald Reagan-appointee Smith stated a US Supreme Court case involving several states and federal environmental regulators would influence his decision on the ban.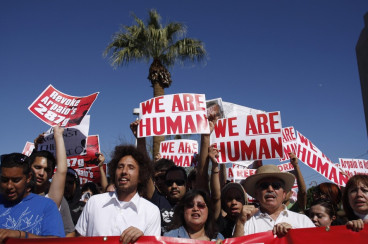 The administration, which has asked the appeals court judges to lift the February injunction, did appear to have one judge in its corner. Judge Stephen Higginson, who was appointed by Obama, questioned Texas Solicitor General Scott Keller if the ban would be better achieved through legislation, Reuters reported.
On 7 April, Hanen denied a request from the US Department of Justice to lift his temporary ruling. During his recent request denial, Hanen requested that the administration provide more details about the issue by 21 April.
Obama's executive action, originally set to go into effect on 18 February, would expand the Deferred Action for Childhood Arrivals (Daca) programme for nearly five million undocumented immigrants. Daca allows undocumented immigrants who meet certain requirements to receive an exemption from deportation and a two-year renewable work visa.
Twenty-six states have sued to block the executive order from taking effect, saying the action is illegal.