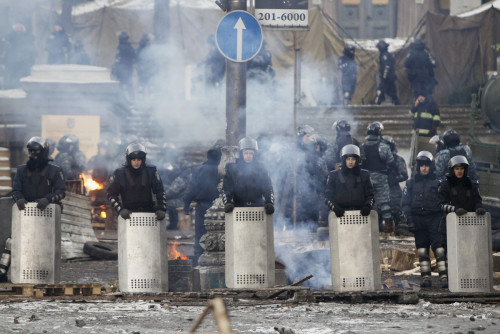 Soon after the Ukrainian opposition groups called on the western world to intervene in the ongoing political standoff, US Secretary of State John Kerry is to hold talks with them.
On the sidelines of the Munich security summit, Kerry will meet the key opposition figures shortly to discuss the situation in Kiev.
Responding to the opposition's appeal, Kerry said: "Our message to Ukraine's opposition will be the full support of President Obama and of the American people for their efforts."
"But we will also say to them that if you get that reform agenda... we would urge them to engage in that because further standoff, or further violence that becomes uncontrollable, is not in anybody's interests."
Kerry's diplomatic move comes at a time when Washington is also considering clamping economic sanctions on Ukraine over the two-month-long crisis.
It is still unclear whether any of the Ukrainian government's delegates will be present at the meeting with Kerry, but the country's foreign minister Leonid Kozhara is already in the German city for the Munich Security Conference.
Ukrainian opposition leader Arseniy Yatsenyuk, who earlier called on the west to act, said: "Ukraine desperately needs a Marshall plan and not martial law in order to stabilise the political and economic situation in the country."
Besides Yatsenyuk, the key opposition leader and boxer-turned-politician, Vitali Klitschko, is also expected to be present during the discussions with Kerry.
The Ukrainian opposition delegation met German Foreign Minister Frank-Walter Steinmeier and the European Union's foreign policy chief, Catherine Ashton, on the eve of their talks with Kerry.
The talks with the US are bound to enrage Russia which has warned against any external interference in Ukraine. The entire unrest in Ukraine was sparked after it failed to uphold a critical economic pact with the EU, perceivably at the behest of Russia.