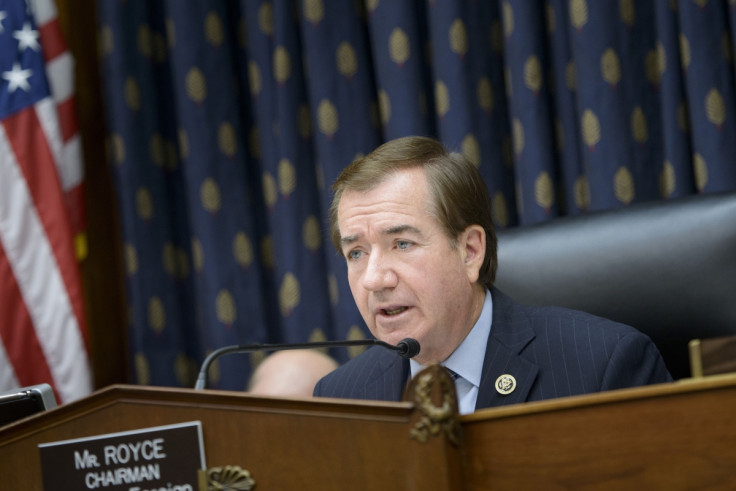 A US lawmaker has alleged that Pakistan's security services are supporting some Islamist terrorist groups that pose a threat to India. The allegation was made during a hearing on the future of US-Pakistani relations.
The lawmaker, Ed Royce, Republican chairman of the House Foreign Affairs Committee, said that Pakistan was a "terrorist haven" because their security services were supporting certain terrorist groups in the country. According to the Business Standard, he also said that the groups had the ability to "destabilise" Afghanistan.
Royce said: "Pakistani governments have come and gone, but Pakistan has remained a terrorist haven, with its security services supporting what it considers to be 'good' Islamist terrorist groups. These 'good' groups – under Pakistan's calculus – destablise Afghanistan and threaten neighbouring India."
Royce accused Pakistan of remaining a source of "radical Islamist thought" and said that they had repeatedly been urged to take action against key terrorist groups, but that they had failed to do so effectively. While noting that Pakistan had made sacrifices in the fight against terrorism, Royce also said that he believed they could take more steps to put pressure on terrorist groups in the country.
He also commented that "anyone who follows Pakistan closely" would not have been surprised to learn that one of the San Bernardino attackers, Tashfeen Malik, studied at a Pakistani school that has "spread a particularly conservative message".
"We have to make it clear to the Pakistanis that these organisations threaten Pakistan, the region, and the panoply of our mutual national security interests, and they must be addressed rigorously," said Royce. "[It is] also critical that Pakistan improve relations with its other neighbour, India."
He added that he hoped to see recent high-level talks between India and Pakistan lead to "reduced tensions and increased ties between the two nations". Tensions have been high between the neighbouring countries since the 2008 Mumbai attacks, when 10 members of the Lashkar-e-Taliba, a Pakistani-based terrorist group, killed 164 people.
Tensions were heightened between India and Pakistan this year when the mastermind of the attacks was granted bail by Pakistan in April. Zakiur Rehman Lakhvi still faces trial for the attacks along with six other suspects, however, the Indian Home Minister Rajnath Singh called his release "unfortunate and disappointing" at the time.